In 2005, Neil Gorsuch Wrote About How Liberals Have Become 'Addicted to the Courtroom'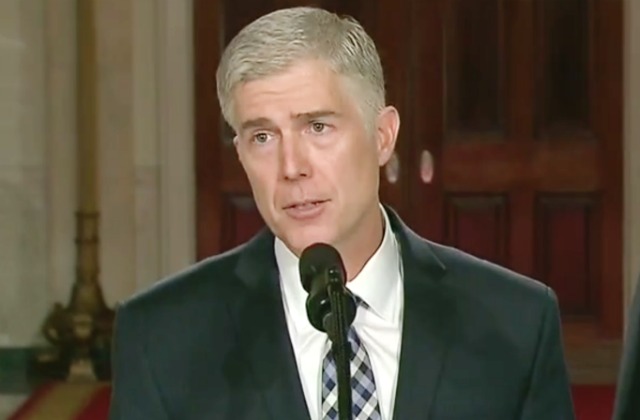 With most of the country starting to get to know who Neil Gorsuch, President Trump's pick for the Supreme Court, is, National Review tonight shared a 2005 piece Gorsuch wrote for them providing insight into his views about liberals seeking social change through the courts.
The article, titled "Liberals'N'Lawsuits," goes off a column by then-Washington Post columnist David von Drehle, who argued that progressives have become too reliant on the court system to advance socially important causes.
Gorsuch had this to say on the subject:
There's no doubt that constitutional lawsuits have secured critical civil-rights victories, with the desegregation cases culminating in Brown v. Board of Education topping the list. But rather than use the judiciary for extraordinary cases, von Drehle recognizes that American liberals have become addicted to the courtroom, relying on judges and lawyers rather than elected leaders and the ballot box, as the primary means of effecting their social agenda on everything from gay marriage to assisted suicide to the use of vouchers for private-school education.

This overweening addiction to the courtroom as the place to debate social policy is bad for the country and bad for the judiciary.
He argued that if liberals rely too much on the courts to bring about social change, it comes at the expense of winning the hearts and minds of fellow Americans, hence "exactly the sort of backlash we saw in November [2004] when gay marriage was rejected in all eleven states where it was on the ballot."
Gorsuch also weighed in on a topic of particular relevance now––the politicization of the judicial branch:
At the same time, the politicization of the judiciary undermines the only real asset it has — its independence. Judges come to be seen as politicians and their confirmations become just another avenue of political warfare. Respect for the role of judges and the legitimacy of the judiciary branch as a whole diminishes. The judiciary's diminishing claim to neutrality and independence is exemplified by a recent, historic shift in the Senate's confirmation process. Where trial-court and appeals-court nominees were once routinely confirmed on voice vote, they are now routinely subjected to ideological litmus tests, filibusters, and vicious interest-group attacks. It is a warning sign that our judiciary is losing its legitimacy when trial and circuit-court judges are viewed and treated as little more than politicians with robes.
Gorsuch's nomination has received plaudits across the Republican party, even from Trump skeptics.
You can read the full National Review article from Gorsuch here.
[image via screengrab]
— —
Follow Josh Feldman on Twitter: @feldmaniac
Have a tip we should know? tips@mediaite.com
Josh Feldman - Senior Editor