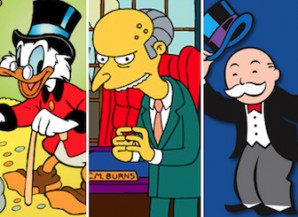 Ah yes…we recall those days when everyone asked us "who needs another media site" as many will certainly ask of Mogulite. The difference, of course is that our friends at Mogulite can't answer it, and we could! Kidding. Just like Mediaite, Mogulite will focus on personalities and in their case, the titans of industry and very powerful people who don't always welcome attention the way our friends in media do.
So what to make of Mogulite? Well let's let our newest cohort Amy Tennery explain its raison d'etre:
Why launch a site about moguls? Now? The reasons range from the absurd to the sensible. For starters: peering into the lives of the ultra-wealthy is fun! Furthermore, many of these people control our everyday lives but don't like to be seen or scrutinized. This doesn't make sense to us. Even the most reclusive moguls should be getting just a fraction of the press coverage of the cast of "Dancing with the Stars." Well, at least I would like to see more moguls on that show… or maybe not.

We're committed to the idea that what the ultra-wealthy and powerful do matters, as much as many would like to deny it. We're ready to celebrate those helping to change things for the better – while, on the other hand, highlighting hypocrisy and exposing those secretly serving as puppeteers, to make our lives more treacherous. We'd like to keep apace with the gobstoppingly wealthy — preferably over a round of aged scotch. If we can't make it into the boardroom, we can at least join you top tax bracket folks at the Harvard Club and share a drink, right? No? Okay, fine. We'll be at our laptops.

The point is, we'll be neither sycophantic nor cruel – we will, however, be merciless.
In honor of Mogulite's launch, we've assembled a list of the top ten Media Moguls according to the Mediaite Power Grid. Enjoy!

>>>>NEXT: Check Out the TOP TEN Most Powerful Media Moguls>>>
Have a tip we should know? tips@mediaite.com