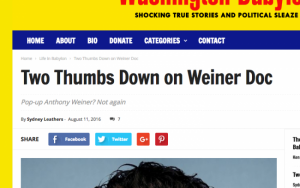 Ever since she was outed as Anthony Weiner's sexting buddy a few years ago, Sydney Leathers has been making a name for herself. From big interviews to a short-lived singing career, she's done it all, but now she's trying her hand at movie reviews.
Specifically, she reviewed the documentary Weiner. (So did we, for the record!) In a D.C. blog called Washington Babylon, she tore the doc apart. Here are a few snippets.
On the way the framing didn't fit reality:
[Josh] Krigman and co-directorElyse Steinberg, immediately offer clips of Weiner's rants on the House floor in an obvious attempt to remind people that once upon a time — before we all saw his dick — he was a congressman with some dignity, or at least legitimacy.
On Weiner's marriage:
If I read this premise in a work of fiction I would say it was farfetched. But when it comes to Weiner, truth is stranger than fiction. For example, consider this tidbit from the film: Bill Clinton officiated at Huma [Abedin] and Anthony's wedding. That's right, 2, a man who knows nothing about the sanctity of marriage. If that's not a premonition of marital doom, I don't know what is.
On her status as a "home wrecker":
People still say I "set him up" somehow, but during the documentary Weiner admits I wasn't the only women with whom he had been sexting. In the past Weiner admitted that he had at least six sexting partners, including one that was seventeen. But yeah, it's all my fault … This scandal cost me my job within half an hour of BuzzFeed outing my identity, and I was forever branded "that" girl. I chose to make porn videos after the scandal and I've been called me a "whore" for doing so but when you listen to their fundraising calls, it's clear that they're the real whores.
Finally, Leathers drops what she clearly hopes is a bombshell:
Huma stayed after the first scandal. She stayed after the second. And his behavior will continue. In fact, I am certain his behavior continues to this day because a woman who claims to be one of his current sexting partners has reached out to me for advice.
Who knows if it's true? That's probably not the point. Leathers grabbed up another byline and is continuing with her plan to work in just about every industry imaginable.
[image via screengrab]
Have a tip we should know? [email protected]
---