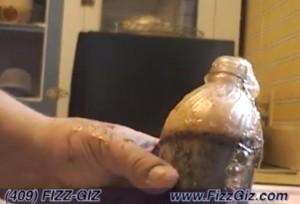 There were only a handful of controversies surrounding this year's crop of Super Bowl ads, but at least one displeased party has decided to light a candle, rather than curse the darkness. Peace activist group Code Pink has been urging a boycott of Sodastream, For those of you who still want a little something extra in your beverage, Code Pink is also recommending several alternatives, including the "Fizz-Giz" carbonation kit, which is made in the U.S.A., and will impregnate any beverage with millions of tiny bubbles, without compromising your political beliefs.
Sodastream, whose ad was featured during Sunday night's Super Bowl broadcast, is facing a Code Pink boycott due to the location of their factory, which employs 160 Palestinians, on an Israeli settlement in the West Bank:
SodaStream markets itself as an environmentally friendly product to "Turn Water Into Fresh Sparkling Water And Soda"… but there is nothing friendly about the destruction of Palestinian life, land and water resources!

SodaStream is an Israeli corporation that produces all of its carbonation devices in an illegal settlement in the West Bank. All Israeli settlements exist in direct contravention to international law! This settlement company obscures its true illegal origin by marking its products "Made in Israel", however "made in an illegal Israeli settlement" is more like it.
However, if you've just finished a particularly strenuous Shake Weight workout, and wish your ice-cold Protein Water (also a real thing) packed a little extra spunk, or you're just fresh out of "throat lotion," have no fear. The group also recommends "Human Rights Friendly, Green Alternatives to SodaStream," including the "Fizz-Giz":
If you want a lower-cost, U.S.-made alternative, consider the Fizz-Giz, a kit developed by a North Carolina tinkerer named Mike Harvell (a.k.a. Mr. Fizz). It consists of a banana-shaped charger "wand" and two special bottle caps, plus one single-use CO2 charger. You fill your own bottle (you can reuse a standard store-bought soda bottle), screw on one of the Fizz-Giz caps, put a CO2 cartridge into the wand, then insert the wand through the bottle cap and carbonate your beverage. The product sells for $28.75 on the Fizz-Giz site or $34.95 on Amazon (plus shipping in both cases).
I don't know how important it is to be able to force bubbles into any liquid, and this "Fizz-Giz" demo on YouTube looks like a scene from Day of the Jackal. Am I trying to carbonate my beverage, or nail it in the head at a thousand yards?
In any case, I would recommend a slight name change, to "Fizz-Giz.. as in Gizmo."
Have a tip we should know? tips@mediaite.com