Indiana Star Editorial Slams Trump Days Ahead of Primary: 'Wholly Unsuited to Serve'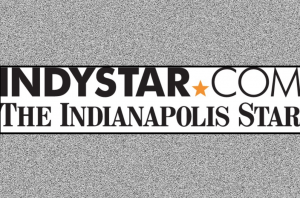 In a move that should be familiar to many, another local paper has dropped a scathing critique of the Republican frontrunner that is likely to have little impact on how voters decide to cast their votes.
The newest effort in the print's war on Donald Trump comes compliments of the Indiana Star, just days ahead of the state-wide primary where Trump holds a modest +6.5 lead over Texas Senator Ted Cruz. Of course, the overall game paints a drastically different picture; Trump's 994 delegates towers over Cruz's 556, and despite the editorial from the Indy Star, blood is in the water for the real estate mogul to ensure victory.
The piece — "Editorial: Although flawed, Kasich, Clinton offer best choices" — reads, "The biggest stakes on Tuesday are on the Republican side, where front-runner Donald Trump could move close to sealing the nomination with another strong win. That would be a disaster in the making."
The editorial continues to harshly rebuke the real estate mogul, noting that, "…he is wholly unsuited to serve as president… A President Trump would be a danger to the United States and to the world."
The piece is truly an informal endorsement for the candidacy and policies of John Kasich, mentioning that the Ohio Governor, "offers the best choice for voters in the Republican primaries." However, it is unlikely to matter much on the outcome of Tuesday's primary; Kasich trails even Cruz in the Hoosier state, polling at just 19.3%.
In the last several months on the campaign trail, Trump has gone to war with other publications who have used their editorial voices to challenge the surging frontrunner as well. During the lead-up to the New Hampshire primary, the Union Leader endorsed then-candidate Chris Christie, furthering in one February piece by writing simply, "Trump has been losing for decades." The #NeverTrump movement also worked its way to the editorial staff of the conservative National Review, who published the widely-circulated "Against Trump" issue in January.
Despite the efforts from these editorial groups, Donald Trump finds himself heading into the Indiana primary just 243 delegates short of the necessary 1,237 he needs to ensure a first ballot nomination. The Indy Star may be asking its readers to, "say no to a candidate who is not merely flawed but is clearly unfit for the office he seeks," but the voters in the 2016 primary season have disinclined to acquiesce to the calls of the local papers. Look for voters in the Hoosier state to do the same Tuesday.
Read the Indy Star editorial here.
—
J.D. Durkin (@jiveDurkey) is a columnist at Mediaite.
[image via Indy Star]
This is an opinion piece. The views expressed in this article are those of just the author.