Ingraham: #NeverTrump Republicans Are 'Effectively Advancing' Clinton's 'Abortion Regime'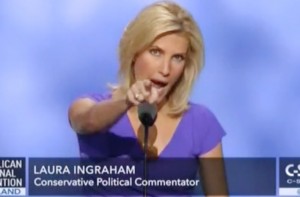 Laura Ingraham, one of Donald Trump's biggest fans in the conservative media, is now declaring that all the pro-life #NeverTrump Republicans who are resisting and fighting Trump are basically just giving in to Hillary Clinton's pro-abortion agenda.
Last night Ingraham told Sean Hannity (who else?), "That's what 'Never Trump' stands for, I guess. Roe v. Wade and partial birth abortion. Fantastic."
Ingraham backed this up with a piece on her site LifeZette today mocking Republicans with concerns about Trump's temperament and judgment. And after going through a list of statements about the election, she concludes:
It seems logical to conclude that by constantly attacking Trump and his supporters, the NeverTrumpers are effectively advancing Mrs. Clinton's abortion regime.
She dismisses the argument that the GOP was doomed from the moment they chose Trump because it's not a forward-thinking belief and she makes this earnest plea to people on the fence about The Donald:
No matter how Trump got the GOP nomination, we are all faced with a choice between Trump and Mrs. Clinton. One of them is going to win. Given that context, any pro-life voter has a moral obligation to do what will prevent the most abortions. Many pro-life voters disagreed with Romney on major issues and thought he was destined to lose — but they supported him anyway.
Of course, one of the key critiques of conservatives who backed Trump from the beginning was that getting behind him was a clear abandonment of principle, so the idea of declaring that everyone else get behind principle now might seem amusing to some of the #NeverTrump-ers.
[image via screengrab]
— —
Follow Josh Feldman on Twitter: @feldmaniac
Have a tip we should know? tips@mediaite.com
Josh Feldman - Senior Editor