Inside MSNBC: Olbermann Twitter Rules, New "Lean Forward" Campaign, CNN Wooing Keith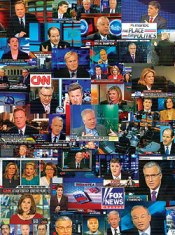 In a lengthy, wide-ranging article out today, Gabriel Sherman of New York magazine explores a variety of cable news storylines over the past six years.
While CNN and Fox News are involved, the juiciest tidbits come from where he got the most access – MSNBC. Here's a roundup of some of the revelations:
First, in the context of MSNBC outcast David Shuster, we get this info about what happens when you tweet about Keith Olbermann:
Last spring, after David Shuster tweeted that he was guest-hosting Countdown while Olbermann was out sick, Olbermann erupted when a blog mentioned Shuster's tweet and he fired off an e-mail to him saying, "Don't ever talk about me and medical issues again." Olbermann's executive producer later told Shuster that there's a rule against mentioning Olbermann on Twitter.
Also, Sherman has more information about that new ad campaign shot by Spike Lee. "The network hired Spike Lee to shoot a multi-million-dollar advertising campaign and developed its own obtuse slogan: 'Lean Forward.'" (Also, Sherman reports MSNBC recently tried to buy the Huffington Post).
With Olbermann as a key source throughout the piece, the MSNBC was a major focus. The entire article kicked off with Olbermann telling the story of how now former CNN President Jon Klein tried to hire him over to CNN.
He told Olbermann he could bring Countdown to CNN—the two even discussed which members of Olbermann's staff would make the move with him. "Jon and I were in very deep discussions on a regular basis for me to go over there," says Olbermann. "One of the premises was we would have put MSNBC out of business."
But according to Sherman, CNN Worldwide President Jim Walton said no, and once Walton expressed his disinterest, Olbermann stepped away from the possibility (again, according to Olbermann). "I bailed out when it became apparent that the people above [Klein] were less than sanguine about this," he said.
Finally, as quoted as the Countdown host is throughout the piece, he quiets down about one interesting question. Sherman talks about the "tension between morning and night at MSNBC" – with Joe Scarborough describing the "safe house" at Morning Joe. "I have no comment about him," Olbermann said.
That just scratches the surface. Check out the full story here.
—–
» Follow Steve Krakauer on Twitter
Have a tip we should know? tips@mediaite.com