Intrigue! Was Casey Anthony Spotted Exiting A Plane At An Orlando Airport? [UPDATE]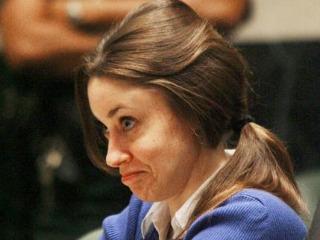 It's Weird Rumor O'Clock, babies!
This afternoon, ABC News presented footage of a person who may or may not be Casey Anthony running from a plane at an Orlando airport, face completely obscured. The video's captions helpfully notes that "Video shows someone running from a plane, hidden under a jacket."
Have a look:
So: A human being, possibly female, has landed in Orlando and is running. That much we know for sure.
But let's say Anthony isn't in her hometown. Could she be hiding out on Geraldo Rivera's boat? God, I hope so. They'd have so much to talk about.
RadarOnline reports that, according to "a source at Fox News," rumor around the office has it that Anthony and her attorney, José Baez, are keeping a low profile aboard Rivera's yacht, The Voyager.
But Rivera's brother, Craig Rivera, told RadarOnline that "There's no truth to that at all."
Basically, there's been a lot of speculation about where Anthony, arguably one of the most hated people in the U.S. at the moment, is staying now that she's been released from prison. Is she hiding? Did she change her name? Is she disguised as a children's party clown? Who knows! But because one good, completely unfounded rumor always deserves another, here are some other extremely likely places where Anthony could possibly be hiding:
In line for The Undefeated,
On MSNBC, at 6 p.m., or, most likely,
Update: In case a denial from his brother was not enough to convince you that Casey Anthony isn't mainlining spray cheese (She looks like she enjoys the finer things in life, no? Like hot body contests and Being In Florida.) on Geraldo Rivera's yacht, Rivera himself told The Orlando Sentinel that this rumor just isn't true:
The rumors that I'm hosting Casey Anthony or any other notorious fugitives at any of the properties owned or controlled by me are absolutely not true.
h/t RadarOnline
Have a tip we should know? [email protected]