Iowa Pol Proposes 'Suck It Up, Buttercup' Bill in Response to Anti-Trump 'Hysteria'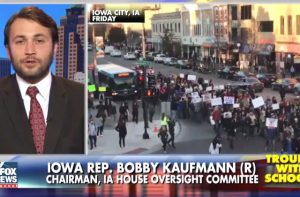 An Iowa state representative is tired with how much anti-Donald Trump protesters are being coddled, and so he announced plans to introduce legislation he is referring to as a "suck it up, buttercup" bill.
Republican Bobby Kaufmann told The Des Moines Register that he's been shocked to hear about colleges across the country helping students cope with their grief over Trump's victory in ways he thinks are not conducive for the environment.
"People are frustrated, people are just really sad and shocked," said Trey Boynton, the director of multi-ethnic student affairs at the University of Michigan. "A lot of people are feeling like there has been a loss. We talked about grief today and about the loss of hope that this election would solidify the progress that was being made."

There was a steady flow of students entering Ms. Boynton's office Wednesday. They spent the day sprawled around the center, playing with Play-Doh and coloring in coloring books, as they sought comfort and distraction.
There have been reports of "cry-ins" in colleges and, as the Journal reports, at least one professor who cancelled a test because of how the election could affect the students' performance.
Well, as Kaufmann explained on Fox & Friends this morning, he wants to stop campuses from wasting taxpayer dollars on helping students cope with a democratic election.
He argued that such things don't adequately prepare students for the real world.
For the record, the Register reached out to public universities in Iowa and they said this:
Spokesmen for the state's public universities said it's important for students to have a chance to talk about the election and what it means for them. They say that although they have held a number of events to help students discuss and process the election results, they are not spending additional state resources to do so.
Kaufmann is also pushing for penalties against anti-Trump protesters blocking traffic and setting up "dangerous" situations for others. He cited a recent protest in Iowa city by what he deemed "spoiled brats."
Watch above, via Fox News.
[image via screengrab]
— —
Follow Josh Feldman on Twitter: @feldmaniac
Have a tip we should know? [email protected]
Josh Feldman - Senior Editor