Iraqi Forces Declare Victory in Ramadi, Says City Is Now 'Fully Liberated' From ISIS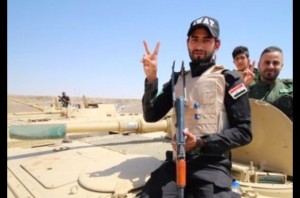 BBC News is reporting that the Iraqi army has declared victory in the the city of Ramadi, west of capital Baghdad, over the Islamic State. The military effort which began in November would mark the first major victory for the Iraqi forces since the city of Ramadi fell to ISIS control in May.
According to the BBC, Muhannad Haimour, spokesman for the Al Anbar Governorate, said "We believe that we do have full control of the centre of Ramadi." A spokesperson familiar with the situation continued saying that any ISIS-controlled areas of resistance are now "very weak".
The Iraqi army has declared Ramadi "totally liberated" from ISIL forces https://t.co/gFC5te4CtJ

— euronews (@euronews) December 28, 2015
BREAKING: Islamic State militants flee #Ramadi stronghold amid Iraqi offensive https://t.co/B1BZgQPp2c via @WSJ #Iraq #ISIS

— Matt Bradley (@MattMcBradley) December 28, 2015
BAGHDAD (AP) – Iraqi military spokesman announces Ramadi city "fully liberated" from IS militants.

— Matt Keller (@MattKellerABC7) December 28, 2015
The Iraqi government has yet to officially confirm the siege; the events unfolded just hours after the ISIS leader Abu Bakr al-Baghdadi released a rare audio recording of himself which many people have identified as desperate in response to a series of crippling blows to their caliphate. al-Baghdadi has only ever made one known public appearance before this.
This video from RT appears to show Iraqi military forces raising their flag among the rubble of Ramadi:
The city of Ramadi by all accounts seems badly damaged following a year of heavy military engagement and fighting for control, but Monday's developments would mark a victory for the Iraqi forces nonetheless. We will update this post as more information becomes available.
[image via Twitter]
—
>> Follow J.D. Durkin on Twitter (@MediaiteJD)
Have a tip we should know? tips@mediaite.com