Irish Pop Duo Jedward Excited To Meet Obama: 'One Step Closer To Britney Spears!'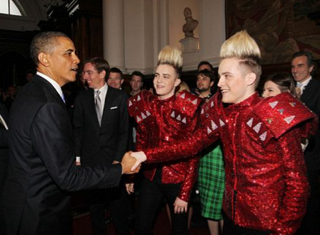 Say what you will about bizarre-coiffed Irish confectionery pop trinket "Jedward," but the kids sure have their priorities straight! While the Eurovision stars were thrilled about meeting and performing for the leader of the free world on President Obama's trip to the British Isles this week, they made it very clear– on paper and spoken word– that they're only using him as a stepping stone towards meeting the actual most important citizen of the United States: Britney Spears.
Aside from his diplomatic duties on his trip to Ireland, President Obama got to sample all the great things Irish culture has to offer. But he also got to sample "Jedward," some sort of reality TV creation that has gotten way out of hand and is now enjoying some level of international fame, thanks to representing their country in the Eurovision Song Contest (Jedward placed eighth out of 25).
In a photo that appears to be the continental opposite of Lady Gaga meeting Queen Elizabeth, the President is depicted having to interact with "Jedward," whose name is a portmanteau of "John" and "Edward." The two ecstatically tweeted about the event repeatedly; the Daily Mail compiled their tweets into a semi-coherent statement:
They tweeted: 'We Performed for President Barrack Obama he said thank you to us it was a lot of fun.
'It was so cool that @BarackObama liked our Hair! Our hair has been approved by the Biggest person ever. He wanted to know what Jedward meant! We said I'm John and I'm Edward together we are Jedward!
'We told Michelle Obama we saw her on loads of magazines like O Magazine and she looked really cool! And she said ahh thanks.
'We were talking to @BarackObama about the Jonas Brothers and Justin Bieber and Miley Cyrus.'
But perhaps the most amusing thing about all of this is that, according to the video statement they posted after performing live for the President (and another tweet, and their official website), the most exciting thing about meeting the President is that they now have a connection to America, which means they have a connection to Britney Spears. "I believe in one America, under John and Edward and Barack Obama come together [sic] to meet Britney Spears," proclaims either John or Edward over the pomp of "Hail to the Chief."
It's completely unclear whether they believe that President Obama just happens to know Spears and will have them over, or whether any interaction with any part of American life and culture is enough to get them "closer" to their pop icon. Regardless, either these Jedwards have a quirky understanding of power hierarchies in America or they're seriously overestimating how busy Britney Spears is nowadays that meeting her would be a bigger deal than wasting President Obama's time with this.
Watch the reality TV pompadours gush over President Obama (but, more importantly, Britney Spears) in their self-made video below:

Have a tip we should know? tips@mediaite.com