IRS Official Overseeing Obamacare Implementation Placed On Leave For Accepting Gifts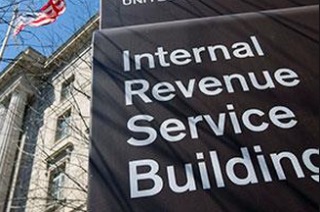 Following the news that officials within the Internal Revenue Service targeted conservative groups with undue scrutiny, the IRS has placed another official on administrative leave. The IRS official overseeing the implementation of the Affordable Care Act has joined IRS executive Lois Lerner on administrative leave after it was revealed that he had accepted inappropriate gifts at a conference in 2010, according to a report in BuzzFeed.

RELATED: GOP Rep Grills New IRS Commish On Lois Lerner's Paid Leave: 'Is That Your Definition Of Accountability?
"The IRS has put a top official in charge of implementing Obamacare on administrative leave after it was discovered he had accepted $1,100 in free food and other items during a 2010 conference, according to multiple House and Senate sources," reads the exclusive BuzzFeed report.
The official, Fred Schindler, serves as the deputy for Sarah Hall Ingram, the IRS official in charge of the implementation of the ACA. Ingram came under scrutiny due to her pervious role overseeing tax-exemption applications – the IRS division responsible for targeting conservative groups.
"One congressional source said it also appears the free meals and gifts were accepted at the same 2010 conference during which participants filmed a Star Trek spoof video," reported BuzzFeed's John Stanton.
UPDATE: An unnamed source tell the Associated Press that two IRS employees have been placed on leave following the discovery that they accepted inappropriate gifts at a 2010 conference. "An inspector general's report on Tuesday said the agency spent nearly $50 million on employee conferences from 2010 through 2012," the report read.
> >Follow Noah Rothman (@NoahCRothman) on Twitter
Have a tip we should know? [email protected]