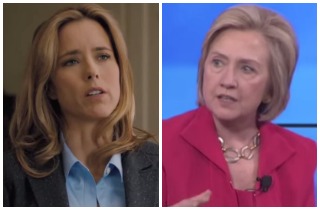 The creators of the CBS show Madam Secretary didn't hide the fact that they were inspired by Hillary Clinton's Benghazi testimony. But that still begs the question: is it really based that much on Clinton? And, beyond that, is it actually propaganda to help Clinton in 2016?
Yes, this is an argument a fair number of people have been making this week. One person told Fox411, "The connections in the show between Elizabeth and Hillary are clear, from the blond hair to the pantsuits."
Some reviews for the show, however, have said aside from the fashion, there's no direct comparison to be made between Clinton and Tea Leoni's character Elizabeth McCord. One review says that McCord "gets the job is because she is not a career politician with any aspirations of achieving a higher office." (So, yeah, not at all like Clinton in that regard, at least.) Another reviewer weighs in:
Leoni's McCord is nothing like Hillary Clinton, or at least not the persona of Hillary Clinton we've crafted in the media. She's sort of persistently exasperated and relentlessly sarcastic. As concerned as she may be with having it all, she's perhaps more interested in knowing it all.
This week, Townhall Media went to a Q&A with the cast and creators, and the people involved in the show (including executive producer Morgan Freeman) all denied Madam Secretary is based on Hillary Clinton the person. (It's worth noting that tomorrow's episode is titled "Another Benghazi.")
Watch the video below, via Townhall:
[h/t UPROXX]
[image via screengrab]
— —
Follow Josh Feldman on Twitter: @feldmaniac
Have a tip we should know? tips@mediaite.com
Josh Feldman - Senior Editor