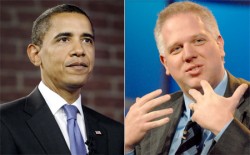 I kid! Glenn Beck is not actually running President Obama's anything schedule, nevertheless, he apparently wields a great deal of influence on the decision making of the Obama administration. At least when it comes to making decisions about the media. This from this morning's Playbook:
President Obama sits down at the White House this afternoon with Bret Baier, anchor of Fox News' 'Special Report' and former chief White House correspondent. A White House official: 'Many of the falsehoods and myths about health reform gained traction with Glenn Beck and others on FOX, so the President is returning to the scene of the crime to make the final sale. As we have said, we will work with Fox where it serves our communications interests, and this does.' The interview is sure to have a huge echo effect because of past White House criticism of Fox, and is a creative way to break through the health care white noise. Communications Director Dan Pfeiffer offered the interview to Baier on Monday.
So, President Obama is sitting down for an interview with Bret Baier because Glenn Beck (and, you know, others) have been pedaling falsehoods. Why not just call the Mao phone direct? Again, I kid. But seriously, it's an interesting admission of how much power Beck wields over the President's media agenda that his name would get specifically dropped by a White House official. This is not the first time, the White House has made public its dislike of Beck before, but this is the first time I recall them publicly admitting taking action as a result of him.
Related: Surprise! Some People At Fox News Are Jealous Of Glenn Beck's Success
Have a tip we should know? tips@mediaite.com