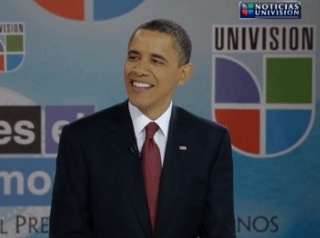 "It's a very simple question. Who authorize [sic] Fast and Furious? We don't have an answer yet." It's a tweet not from a frustrated Fox News regular or a noted critic of the President, but from Univisión's premiere journalist, Jorge Ramos. His simple question highlights a shift that Ramos has been leading the way on: a subtle but increasingly visible willingness in Latin American media to challenge the Obama administration. With the Latino vote potentially more important than in any previous election, having the Latino press against him could prove critical for President Obama.
RELATED: Univisión's Jorge Ramos Scolds Obama For Using His Likeness In A Campaign Ad
In the English-speaking world, many would argue it was quite the good week for President Obama with Latino voters. "The president's failure to deliver on comprehensive immigration reform has not gone unnoticed among Latinos, nor has the record number of deportations during his administration. His announcement Friday seems likely to change that," wrote Politico in the aftermath of the decision. And the polls are, in some ways, corroborating that– polls show notable increases in support and enthusiasm in the Latino voter community for President Obama since he announced his new policy to not prioritize young, educated illegal immigrants brought here by their parents. But the Spanish-language media has not overwhelmingly embraced neither the policy nor the president, starting with Ramos at Univisión.
Ramos' posed that very question about Fast and Furious to the President earlier this year, and got no answer other than a condescending explanation that "the United States is a big country" and he, at least, did not authorize it. Ramos, who has been on The O'Reilly Factor arguing in favor of immigration reform in addition to his work on Univisión, has hosted a few unfortunate moments for the Obama campaign on his program Al Punto recently. Ramos cornered David Axelrod into saying a choice of a Latin American Vice Presidential candidate on the Republican side would be an "insult to Hispanics;" he chided the Obama campaign for using his likeness in an ad. His interview with Sen. Marco Rubio, in which he essentially allowed the Senator to scold him for Univisión's extortion attempt while attacking the President over the immigration measure, took up most of this week's coverage of American politics on the network.
But it is outside television where he has been the most vocal, particularly in a column on his site entitled "Why No Party Speaks Our Language":
No one can blame Latinos for feeling alone or as if they live in a nation within a nation. The Democrats and Republicans both have failed in their attempts to understand and connect with us. […]

Barack Obama's government is responsible for the separation of thousands of Hispanic families whose children are citizens of the United States. Obama has deported more immigrants– more that 1.2 million– than any other President in history. And why ultimately his immigration policies have been focused on criminals, his Safe Communities program has negatively affected many innocent workers who have committed no crimes.
He is not alone in feeling that the Obama administration could do better to reach out to Latinos. The Spanish wing of the Miami Herald, El Nuevo Herald, published a letter to the editor in which a reader cynically said the "limited and contrived" immigration measure earned the President half his vote. Alongside that letter, legendary Peruvian journalist Guillermo Descalzi wrote (in a column in which he praises the move politically and condemns in morally),"the undocumented immigration is a political weapon. Obama's announcement takes that weapon off the hands of Republicans… his detractors have woven a myth in which Obama doesn't apply immigration laws and, if up to him, the country would be teeming with Mexicans. Fact: no one has deported more undocumented immigrants than Obama, close to two million in his tenure." El Herald's response is somewhat expected and, certainly, opponents will refuse to acknowledge it in combination with the frigid way Univisión seems to be treating the President. Cuban Americans are disproportionately Republican and virulently anti-Obama, and the numbers prove this. But for the first time since the President announced his candidate for the most powerful job in the world, it seems like the Cuban American lobby is not alone, Univisión now among its ranks. Even New York's biggest Spanish-language newspaper, El Diario/La Prensa, has received last week's immigration news with some lukewarm response– columns like a series on young people already deported whose lives would have been impacted had the President's measure been more extensive and a warning that the specificity of the measure makes it easier for scammers to promise a fix for undocumented immigrants who don't qualify and then take their money.
The shift in tone when covering the President could be the result of any number of political developments, partly the President's evolution on issues and the positions he has taken that the English-language media often gloss over. The reasons why are far less significant to Team Obama than the fact that its happening, and if the evidence appears to skew overwhelmingly in the direction of Univisión, that's because it's a television powerhouse almost unparalleled in the nation, routinely enjoying higher ratings than most English-language channels and beating out networks like NBC. If their coverage, coupled with the tepid reaction of newspapers to an action that is widely recognized as the Obama campaign's Latino trump card, continues the pattern in recent weeks, the impact on the Obama campaign's get out the vote effort could prove to redefine the direction of the election– even if the cold shoulder for Obama doesn't meant any more good words for Mitt Romney.
Have a tip we should know? tips@mediaite.com