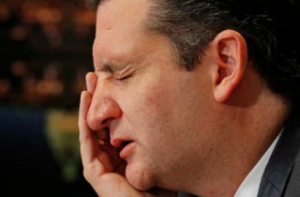 A few days ago, a some Trump supporters filed a federal lawsuit against Ted Cruz in Alabama, just as a lawyer did in Texas a few weeks ago. The lawsuits center around Cruz being born in Canada, which is something Donald Trump has been insisting makes him unqualified to be president.
Trump has maintained that he isn't the one who brought up the "birther" claims. He swears he was just responding to a journalist who asked about it. That being said, he has also refused to let it go in the weeks since.
Cruz was a sympathetic character at first, fighting back against Trump, his supporters, and their claims, which seemed ridiculous to many consumers. His own gaffes and dishonesty, though, took his victim status down considerably. Now, many political observers don't see him as the undeserving recipient of Trump's laser-focused contempt.
Now, Trump has taken to Twitter with the following:
If @TedCruz doesn't clean up his act, stop cheating, & doing negative ads, I have standing to sue him for not being a natural born citizen.

— Donald J. Trump (@realDonaldTrump) February 12, 2016
He is certainly referring to Cruz's latest blatantly anti-Trump ads, which are much more direct than his initial dealings with Trump.
The tweet begs the question, Is Trump planning to sue? After all, he's already set the precedent of tweeting something after he's decided to do it. When he ran the poll heard 'round the media world, he was arguably seeking validation for his plan to skip the upcoming debate.
Time will tell but I am betting that come next week, I will be drafting up a "Trump Sues Cruz Over Canadian Birth" headline for you all, so enjoy the calm before the storm this weekend.
[image via screengrab]
For more from Lindsey, follow her on Twitter.
This is an opinion piece. The views expressed in this article are those of just the author.