Newt Gingrich Is Officially The Frontrunner According To Recent GOP Public Policy Poll
Gingrich Is Officially The Frontrunner According To Recent GOP Public Policy Poll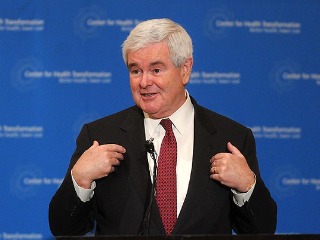 New polling results now have a new front-runner edging out Mitt Romney… and it's none other than Newt Gingrich. Public Policy Polling has Gingrich polling at 28 percent compared to former front-runner Herman Cain's 25 percent and 18 percent for Romney, who has consistently been poised as the "candidate to beat" amidst a revolving door of GOP competitors.
This means that, compared to this time last month, Gingrich is up 13 points, while Cain — who formerly shot up in popularity to find himself topping polls — has dropped by 5 points. Romney, too, has has experienced a drop of 4 points.
RELATED: Brit Hume: Gingrich's Debate Performances & 'Uncle Newt' Persona Helping Him In Polls
It's also worth mentioning that the latest CNN/ORC International Poll also has Gingrich in the lead… if you take the margin of error into consideration. According to a CNN/ORC International Poll released today, 24 percent of Republicans and independent voters who lean towards the GOP say that Romney is their most likely choice for their party's presidential nominee, with 22 percent selecting Gingrich as their favorite. Note that "Romney's two-point advantage is well within the survey's sampling error."
Could the recent wave of sexual harassment and sexual assault allegations lobbed against Cain be playing a role in his recent drop? PPP, for its part, says "there is no doubt they are taking a toll on his image," reporting that his net favorability is down 25 points from last month, from +51 (66/15) to only +26 (57/31).
RELATED: Gloria Cain Shoots Down Allegations To Greta Van Susteren: '[Herman] Would Have To Have A Split Personality'
Also worth taking into account as the campaign continues: Seventy-three percent of Cain's supporters have a favorable opinion of Gingrich, with only 21 percent purporting to hold a negative opinion of their candidate of choice's rival.
Have a tip we should know? tips@mediaite.com