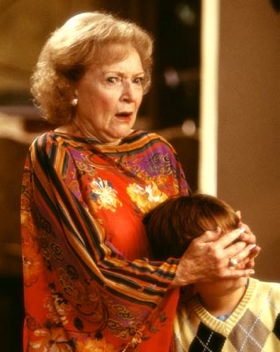 The rumors are true, and yes, Facebook had something to do with it. USA Today is reporting that Betty White will be hosting the May 8 broadcast of Saturday Night Live after refusing the spot for years. White, whose legendary status has persisted to a younger generation through her role in The Proposal, playing beer pong with Jimmy Fallon, and, yes, those Golden Girls reruns on Lifetime, became the center of a Facebook campaign to get her to host after the debut of her new Snickers ad during the Super Bowl. And Lorne Michaels couldn't sound happier about it.
The SNL head told USA Today that having White host was something he has always wanted, and while he has always felt the same level of affection for White as the Facebook fans have, it was their public support of her that "validated that." While White called the opportunity "lovely," she quipped that she was only hosting because "my agent said he'd divorce me if I didn't do it, and I love my agent." White had turned down the show three times previously for being too "New York."
White has claimed that she is not afraid of the demands of the job. "I've got so much energy, it's ridiculous," she told the newspaper, although it seems like SNL won't be taking any chances. While White will be the sole host of the show despite early rumors floating around of her having a co-host or two ease the amount of physical effort required from her, she will have an intense backup team: an SNL mom reunion with Tina Fey, Amy Poehler, Molly Shannon, Maya Rudolph, Ana Gasteyer and Rachel Dratch.
With this kind of host and this level of talent, it sounds like it will be nearly impossible for this show not to be completely amazing– and it's all thanks to Facebook! Now if only the same could be done for Glenn Beck.


Have a tip we should know? [email protected]