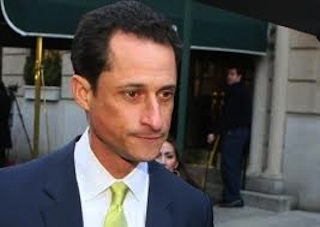 What we can only assume is the worst couple of weeks in Rep. Anthony Weiner's life continues. Andrew Breitbart appeared on The Opie and Anthony Show on Sirius Radio this morning in the latest stop on his "I Told You So" Tour and showed the hosts, Anthony Cumia and Gregg "Opie" Hughes a picture that he said he wouldn't release; a fully uncensored photo that purports to be of Weiner's genitals. Breitbart showed the picture on his cell phone which he passed around. Unsurprisingly, the hosts quickly snapped a shot of the screen and tweeted the image out to numerous news outlets.
So, yeah, the picture's out there now.
It will be interesting to see how much this picture affects the story. After all, everyone's basically already seen Weiner's penis albeit covered by underwear. And the photo doesn't add any new indiscretions. However, it's quite possible that seeing an actual pornographic, fully nude image will be enough to put the final nail in the coffin.
One interesting detail is that this image will not be allowed on television which means people, in all of their curiosity, will look it up online, making them more actively involved in the story. That's something that could affect how strongly they feel about Weiner and the scandal either way.
Whatever the case, this is not a good development for Rep. Weiner.
Here is Hughes' tweet with the image in question pixelated.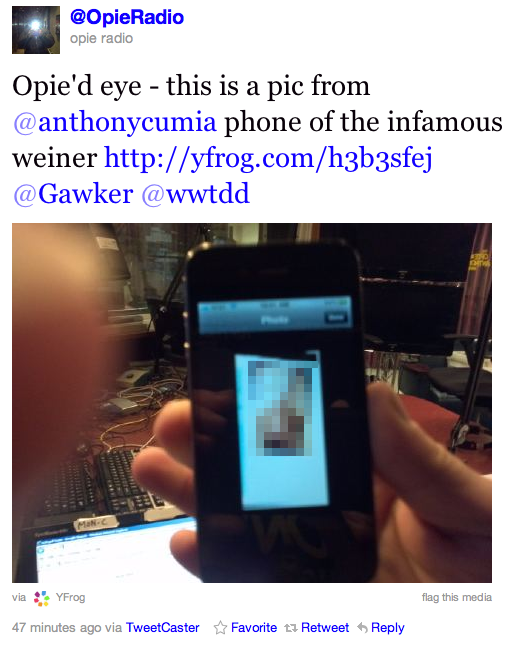 (Update) Here is the exchange with Andrew Breitbart from the Opie And Anthony show below:
Have a tip we should know? tips@mediaite.com