'It is Going to be Viral!': Eyewitness Says Passenger Told Her to Tape His Pro-Trump Rant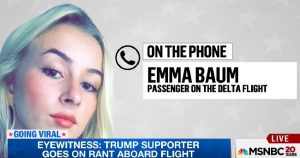 Appearing on MSNBC Live this afternoon, Emma Baum explained to host Joy Reid how her viral video of a flight passenger's pro-Trump rant when he called Clinton voters "Hillary bitches" came to be and why the man decided to go off like he did.
Highlighting that she is currently living in Belize, she heard the man — who is still unidentified — talk about making America great again. As she was in the same row as him, she asked him why he voted for Donald Trump. At that point, he said he had something to say to everyone.
Baum told the man she was going to video his statement, claiming he answered back by saying "go ahead, video this, it is going to be viral!"
She went on to describe the video, which was later sent to and tweeted out by Daily Beast contributing writer Yashar Ali, explaining that he began clapping and yelling "Donald Trump" to no reaction. He then asked if "we got some Hillary bitches on here?"
WATCH: Trump supporter calls women "Hillary Bitches" on flight to Allentown. Spoke to Emma Baum who shot video, @Delta did nothing. pic.twitter.com/2ZBjNCurNM

— Yashar (@yashar) November 25, 2016
Reid wanted to know if a flight attendant intervened. Baum stated that while he was going on his rant nobody came by, but afterwards, someone stopped by and said he needed to come with them.
She also insisted that no one provoked him to do this and that he wanted it to be recorded so it would go viral. Baum let Reid know that a number of passengers were offended, specifically by the "Hillary bitches" comment, and she's since received messages from many of them expressing thanks that she took the video.
The segment then opened up to a panel discussion about the incident, which included Ali.
Watch the clip above, via MSNBC.
[image via screengrab]
–
Follow Justin Baragona on Twitter: @justinbaragona
Have a tip we should know? tips@mediaite.com