It Is Time For The Media To Call Out The Democratic Party's Cynical Politicking On Gay Marriage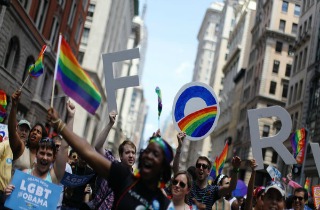 Just about every Democratic member of Congress is currently engaged in a race to express support for same-sex marriage rights faster than their colleagues. The nakedly political nature of this kind of "courage" is so self-evident that even the left-leaning Salon.com is not having it. On Thursday, they released an unimpressed "courage-meter" which implicitly chides Democrats who are jumping on the pro-gay marriage bandwagon just as polling shows a spike in support for marriage equality. I have regularly criticized Democrats and their supporters in the media for intentionally mistaking Democratic officeholders' expressions of empathy for the plight of gay Americans with a genuine support for true reforms. But the Democratic Party's brazenness goes beyond merely paying lip service to their gay constituents. In some cases, Democrats appear more willing to preserve gay marriage as a wedge issue against Republicans than they are to champion real reform. Take, for example, the tragic case of New Jersey's forgotten gay residents.

In early 2012, New Jersey appeared to political observers to be yet another domino prepared to fall in gay rights supporter's direction as the state debated legalizing same-sex marriage. In January, 2012, public polling showed that a narrow majority of New Jersey residents supported legalizing marriage equality. The Democrat-dominated state legislature had been debating the issue of gay marriage for years, but the crescendo of voices loudly supportive of same-sex marriage rights in the early part of that political year signaled to some that it was only a matter of time before the state recognized gay marriages.
In early 2012, the state legislature passed a bill to legalize gay marriage, but they ran up against an immovable obstacle: New Jersey's imposing Republican Gov. Chris Christie. Christie, already a national political figure shepherding his political fortunes as Republicans across the nation readied an urgent draft intended to compel him to mount a presidential bid, threatened to veto the bill. However, as a conciliation measure, Christie offered the legislature a compromise: a referendum on gay marriage which would grace the November, 2012, ballot.
Christie reasoned that, while he would veto the bill, a referendum on the state's ballot in with President Barack Obama at the top of the ticket was certain to pass. The state would get legal gay marriage and Christie could continue to preserve his political brand. Democrats in the legislature balked at the offer. They calculated that Christie may be vulnerable in 2013 and his opposition to gay marriage was a perfect wedge issue to court voters who are otherwise content with the governor's handling of the state's affairs. Christie vetoed New Jersey's gay marriage bill. A referendum was not put to voters.
But a funny thing happened on the way to 2013: Hurricane Sandy. The state was ravaged by this once-in-a-generation storm. Christie's handling of the disaster endeared him to New Jersey's voters – five months after the storm, he continues to be the nation's most popular governor. Christie seems invulnerable as he prepares his bid for reelection.
But Democrats, wedded to their thoughtless tactical maneuver, are moving ahead with their campaign against the "out of touch" Chris Christie.
On Thursday, the Democratic Governor's Association fired off this tweet promoting a graphic intended to gin up opposition to the governor's reelection bid: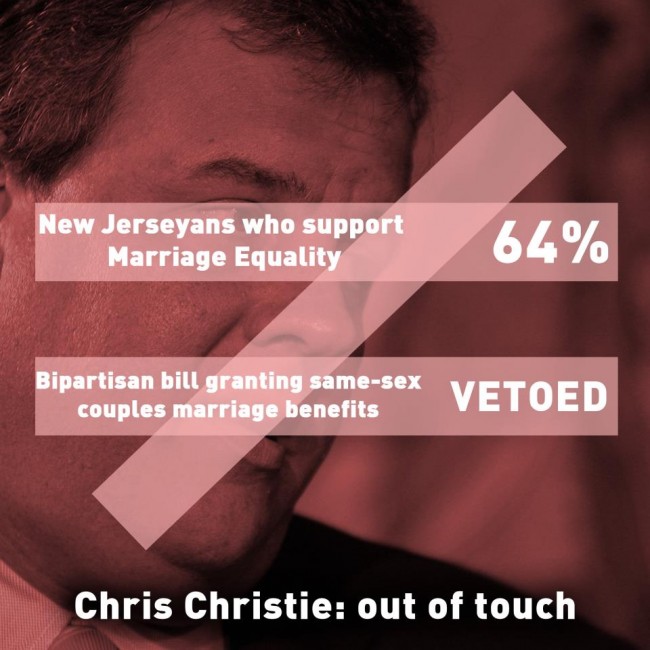 This feeble strategy appears doomed to failure. Democrats preserved their wedge issue, but Christie appears set to retain the governor's mansion in 2013 and – to the chagrin of many in the conservative activist grassroots – will be a strong contender for the GOP's presidential nomination in 2016. The only people who truly lose out in this titanic political battle are the state's gay residents, their friends, and their families.
A recent Quinnipiac University poll shows that 72 percent of New Jersey residents think a plebiscite is a "good idea." Once New Jersey's Democrats come to terms with their miscalculation, the state's voters will finally have the option to approve gay marriage on their own.
Too often, Democrats get a pat on the back from members of the media who appreciate their expressions of sympathy for gay Americans. Most of them are fully aware of the shallowness of Democratic politicians' real support for gay rights. The Democratic Party's strategic handling of the gay marriage issue is quite cynical. It is time American voters who support gay marriage recognize that they are being played for fools by the party that supposedly champions their cause. It's past time for political pundits in the media to start calling this out this blatant politicking for what it is.
> >Follow Noah Rothman (@NoahCRothman) on Twitter
Have a tip we should know? tips@mediaite.com