'It Was Like Argo': Harvey Weinstein Secretly Arranged Michelle Obama's Oscars Appearance
'It Was Like
Argo'
: Weinstein Secretly Arranged Michelle Obama's Oscars Appearance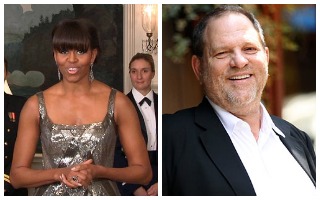 Oscars viewers were in for a surprise on Sunday night, when First Lady Michelle Obama appeared, via video from the White House, to announce the winner of the "best picture" award. For those wondering, it was Harvey Weinstein's daughter's idea. And arranging it was quite the mission.
Academy president Hawk Koch told the Hollywood Reporter that the Weinstein's daughter, Lily, proposed Obama's appearance and the producers loved it. But execution? Wasn't easy.
So, two weeks ago, Koch and the producers borrowed Disney's jet for a flight to D.C. They told their colleagues, though, that they had to go to New York for the day. "The planning of it was like Argo — it was a C.I.A. mission, it was so complicated. We didn't even want anyone to know where we were going," Zadan said.
Ya know, Argo, which is based on the Iran hostage crisis.
Then, Jack Nicholson signed on to present the award with the first lady. The whole operation, the report notes, was treated like a "state secret."
It was intentionally kept off the show's run sheets, so it wouldn't leak. On the Friday before the show, the Academy issued a release announcing that Nicholson and Dustin Hoffman would be serving as presenters. The announcement included a statement from Zadan and Meron that said, "Their participation in this year's Oscars completes a list of presenters and performers that truly represents that greath breadth and depth of acting talent in film today."
The winner, of course, was Argo.
(h/t THR)
Have a tip we should know? tips@mediaite.com