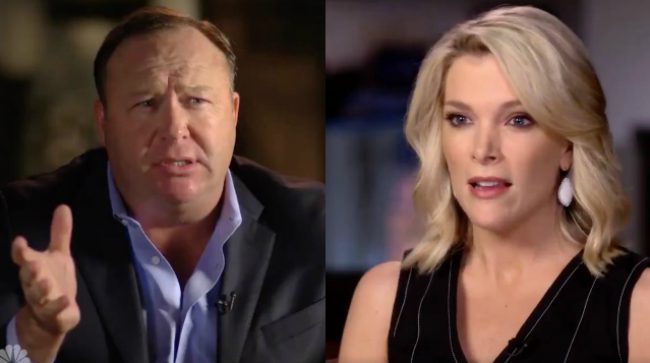 Are alarm bells ringing at 30 Rock?
Amid the growing controversy of Megyn Kelly's upcoming interview with InfoWars founder Alex Jones, network executives are panicking with some even suggesting that the entire thing be scrapped before it airs Sunday, Page 6 reported late Tuesday evening.
"It's a s - - t show," one insider told the New York Post's most infamous vertical. "No one wants to withstand a whole week of criticism over this. There are a number of people who want to pull the interview."
The paper, however, seemed to indicate that the interview was more likely than not to go on, and that NBC News chief Andy Lack was planning to go ahead with it.
While Page 6 has a pretty good history of getting things right, it's worth noting that it is a full-fledged subsidiary of the Rupert Murdoch empire and thus has more than a little interest in stirring trouble at their news rival any way they can.
Regardless, the heat, has certainly been real.
What began as online carping from liberal Twitter accounts upset about giving Jones a platform quickly spiraled out of control. The biggest bone of contention has been Jones' frequent suggestion that the 2012 Sandy Hook massacre was staged. Kelly was dropped from a planned appearance at a gun violence prevention benefit gala inspired by the mass shooting and J.P. Morgan Chase ordered their ads pulled from the air during the interview.
[image via screengrab]
Have a tip we should know? [email protected]
---