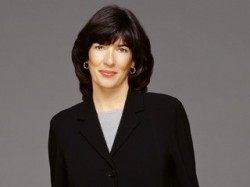 After months of rumors speculating who would fill George Stephanopoulos' seat at ABC's This Week — and a circulating roster of fill-ins — we have an answer. Christiane Amanpour is leaving her longtime employer CNN to take over the position. Memos from both CNN and ABC below.
It's an interesting choice on a number of levels. The most obvious being that ABC felt it had to go outside the network to find someone for the job. Over the past few months the network has experimented with a number of guest hosts all from within ABC's family: Jake Tapper, Terry Moran, Barbara Walters. Early on many viewed Moran as the likely successor to Stephanopoulos, who left to take over Diane Sawyer's job at Good Morning America. Lately, however, Jake Tapper has appeared to be the crowd favorite. Only very recently did Amanpour's name pop up as a possibility.
It seems clear that ABC was attracted to Amanpour's international reporting bona fides — ABC head David Westin notes early on in his memo to staff that Amanpour boasts a "wealth of experience and knowledge, as well as a deep commitment to bringing news of the world to the American people" and that with her at the helm the network will now be able to "provide our audiences with something different on Sunday mornings. We will continue to provide the best in interviews and analysis about domestic politics and policies. But now we will add to that an international perspective." He also said that over the years the network has talked to Amanpour about bringing her aboard but that it had never worked out until now. Needless to say, she's also a woman, which marks a welcome and long overdue change to the Sunday morning political shows.
According to CNN's memo, Amanpour will leave the network at the end of April. She will start at ABC in August and Jake Tapper will fill in in the interim. Both memos after the jump.
Related: Would A Christiane Amanpour Hiring Drastically Change This Week?
Have a tip we should know? tips@mediaite.com