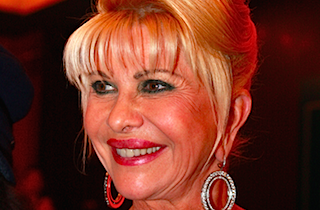 More than two decades ago, Ivana Trump claimed that her then-husband, Donald Trump "raped" her. Now, she claims that the story, recounted this week by The Daily Beast, is "totally without merit."
Ivana Trump's defense of her ex-husband comes amidst outrage aimed at Donald Trump's special counsel Michael Cohen, who said in response to the report, "You cannot rape your spouse." In fact, marital rape is illegal in all 50 states.
"I have recently read some comments attributed to me from nearly 30 years ago at a time of very high tension during my divorce from Donald. The story is totally without merit," Ivana Trump told CNN in a statement Tuesday. "Donald and I are the best of friends and together have raised three children that we love and are very proud of. I have nothing but fondness for Donald and wish him the best of luck on his campaign. Incidentally, I think he would make an incredible president."
In 1993, when the accusations were published in the biography, Lost Tycoon: The Many Lives of Donald J. Trump
, Trump himself called the story "obviously false." Trump's presidential campaign distanced itself from Cohen's comments Monday night, saying, "Nobody speaks for Mr. Trump but Mr. Trump."
And as of Tuesday morning, Cohen has issued a rare apology coming from anyone inside Trump's camp, while still laying some of the blame on the media.
"As an attorney, husband and father there are many injustices that offend me but nothing more than charges of rape or racism. They hit me at my core," he told CNN. "Rarely am I surprised by the press, but the gall of this particular reporter to make such a reprehensible and false allegation against Mr. Trump truly stunned me. In my moment of shock and anger, I made an inarticulate comment — which I do not believe — and which I apologize for entirely."
[Photo via Wikimedia Commons]
— —
>> Follow Matt Wilstein (@TheMattWilstein) on Twitter
Have a tip we should know? tips@mediaite.com