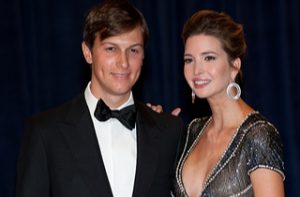 It looks like the Obamas are going to have some new, unexpected neighbors when they move out of the White House's residence in less than three weeks. The Washingtonian reports that according to "multiple real estate sources," Ivanka Trump and her family will be moving into a house on Tracy Place in the Kalorama neighborhood in Washington, DC, which is less than two blocks from the Obamas' new home. While contractually unable to confirm the location, Washington Fine Properties agent William F.X. Moody did confirm to The Washingtonian that a deal had been completed for Ivanka's family to move in.
The house in question just sold for $5.5 million on December 22nd, but it's not yet known if Trump and husband Jared Kushner are the buyers or if they rented it from whoever the news owners might be. The realtor, Washington Fine Properties, also did the deals for various appointees to Donald Trump's presidential administration, including Secretary of Commerce nominee Wilbur Ross.
The president elect's team has been reviewing anti-nepotism rules to find a way to make room for his daughter and son-in-law in his administration, but its not yet clear if either will have any kind of official role. Kushner, meanwhile, has been trying to sell his newspaper, the New York Observer.
Have a tip we should know? [email protected]
---