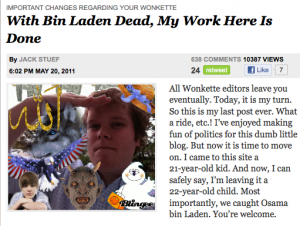 Jack Stuef, the Wonkette editor who rendered the intertubes a sputtering mess of indignation following the misfired jokes in his post about Trig Palin's birthday, has written a farewell post as he leaves the world of political blogging to try his hand at entering the much less toxic world of TV writing.
And, you know what? His farewell screed is immensely relatable, not to mention extremely likely to strike a chord with anyone who has at any time tried to pursue a career in writing for Not Trolls. You see, the reason Stuef is leaving the site is not so he can have more free time to hunt and disembowel disadvantaged children, but so he can do the sort of writing he loves to do, as opposed to the sort he has to do in order to pay the bills. Plus, he admits, having to churn out eight posts a day, every day, eventually leads some of us to hit "publish" on content that, were it a kitten, would be the runt with one eye, no internal organs, and a wee little leg ending in a nub:
I live in New York now, and I came here to get back into stand-up comedy and take a shot at writing for television, but I just haven't had the time. I should've quit Wonkette many months ago when I started to be able to support myself well enough financially otherwise. I still loved it though, even though I found myself routinely burned out on politics, something I apologize for, as it clearly came out in posts at times and was probably not very entertaining to read.

If I'm anything, I'm derivative; Newell "rules" that he talks about in his goodbye post — that's something I've thought about quite a bit too. At times, especially when I'm tired and have to somehow hit eight posts when there's no real news happening, I've broken some of my own. I don't like to make easy jokes. But I have. Kind of often. A few times I've made fun of people who really didn't deserve it, and when it was pointed out to me, I apologized. This sort of thing happens, even when you make a point of trying to stay true to yourself as much as you can, because you're human. Overall, though, out of all the 1,642 posts and countless thousands of jokes I've written here, I can say I'm proud of most of them.
He also admits to being 22 years old, which is shameful and disgusting, although understandable.
I may have totally hated your Trig post, Jack, but I didn't exactly love the tone of much of the backlash against it. I also know that some jokes soar high among the clouds, bringing joy to all who read them, while some fall flat, despite our best intentions and the time and effort we put into any accompanying Blingee art.
So, from one online editor to another: I wish you well.
And, remember, "tragedy plus time equals comedy," as they say. So when you find yourself sitting in some writers' room out in Burbank, a fluorescent bulb blinking above a plate of mostly-stale organic vegan cupcakes, take heart in being able to deftly craft a joke or two about the life and times of a young political blogger into an episode of the CBS hit comedy Fat Man and Skinny Wife Sitting on a Couch.
Good luck out there.
Have a tip we should know? tips@mediaite.com