Jared Kushner: Trump Campaign Struck Deal With Sinclair Broadcast Group For Better Media Coverage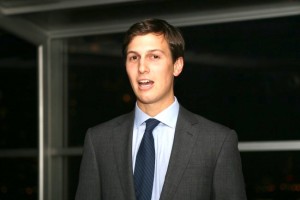 President-elect Donald Trump's son-in-law told a group of executives yesterday that the Trump campaign came to a deal with the Sinclair Broadcast Group to get better press coverage.
According to Politico, Jared Kushner stated that the campaign offered the media group access to the candidate and campaign and, in return, Sinclair would broadcast Trump interviews without commentary. Kushner pointed out that SBG's reach was greater in areas like Ohio than CNN's.
In response, Sinclair's vice president of news, Scott Livingston, said that they offered extended interviews to both Trump and Hillary Clinton, and Clinton didn't take them up on the offer.
"Our promise was to give all candidates an opportunity to voice their position share their position with our viewers. Certainly we presented an opportunity so that Mr. Trump could clearly state his position on the key issues," Livingston said. "Our commitment to our viewers is to go beyond podium, beyond the rhetoric. We're all about tracking the truth and telling the truth and that's typically missing in most political coverage."
Kushner also added that the campaign was upset with CNN because they felt its panels weren't fair to Trump and that when he asked CNN president Jeff Zucker to change up the panels, Zucker refused. This led to Trump hammering away at CNN throughout the election.
Apparently, Kushner focused a lot on CNN in the conference.
Two people present said that they were surprised how much Kushner talked about CNN. "He kept going on and on about it," one business executive said.

He also told the crowd that Google and Facebook are now more powerful, and that The New York Times and CNN aren't as powerful.
Shortly after he won the election, Trump met with members of the mainstream media, including CNN, and ripped them over their coverage of him.
[image via screengrab]
–
Follow Justin Baragona on Twitter: @justinbaragona
Have a tip we should know? tips@mediaite.com