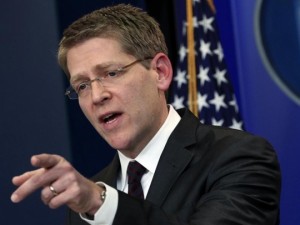 Many have criticized the White House response to the deadly attack on the U.S. consulate in Libya — particularly noting President Barack Obama's changing rhetoric regarding the incident. On Thursday, White House Press Secretary Jay Carney defended the president, noting that their ongoing assessments have been based on the facts available at the time.
RELATED: Media Silent After Intelligence Sources Claim Obama Admin. Misrepresented Facts About Libya Attack
Carney deemed the criticism an "unfortunate" effort to politicize the attack, which led to the deaths of four Americans, including Ambassador Chris Stevens. He told reporters:
There has been an attempt by Republicans, beginning with Governor Romney, to try to turn this event into a partisan issue — to try to score political points out of a terrorist attack that cost the lives of four Americans including our ambassador to Libya. And that is unfortunate.
He also noted that the White House's rhetoric has been based on the intelligence they've received from the investigation, the final result of which is still pending. "Every step of the way, the information that we have provided to you and the general public about the attack in Benghazi has been based on the best intelligence we've had and the assessments of our intelligence community," Carney said.
He continued: "We have said all along that there's an ongoing investigation and that as more facts come out, we will follow those facts wherever they lead and apprise you of our assessments as those facts come to light."
As ABC News notes, the White House initially associated the attack on the consulate with the anti-Islam movie that's recently spurred protests in the Middle East. Carney told reporters on Sept. 14 that there was no evidence suggesting any pre-planned attack.
Now, the president believes it was a terrorist attack, Carney said, despite Obama's shying away from the term. In an appearance on The View this week, Obama said the incident "wasn't just a mob action."
"I'm the president's spokesman," Carney said today. "It has been since I said so, the president's position that this is a terrorist attack."
Have a tip we should know? tips@mediaite.com