Jay Carney Insists Obama Comfortable With Learning About IRS Scandal From News Rather Than Advisors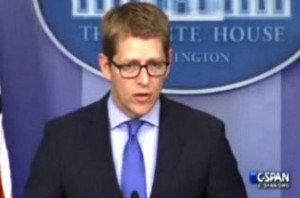 White House Press Sec. Jay Carney told reporters on Tuesday at the daily press briefing that President Barack Obama was not upset with his closest advisors who chose not to inform him of the brewing scandal surrounding the Internal Revenue Service's systemic targeting of conservative groups. Carney said that the president would not have been able to comment on the Inspector General's ongoing investigation into the IRS's abuses and was not upset over being kept out of the loop.

RELATED: White House Officials And IRS Discussed How To Break News Of Conservative Targeting
"I wasn't present when he learned about it, but I know that he was not happy with the apparent conduct," Carney said. "I think that the tenor of the president's public comments about it, both in his statement Tuesday night and his public comments the next day, reflect his feelings upon learning about the apparent conduct by IRS officials in Cincinnati."
Carney added that the president has complete faith in White House Counsel and chief lawyer Kathryn Ruemmler. Carney repeated that it would have been wrong for the president to comment on the investigation into the IRS scandal while the Inspector General was investigating the abuses.
"It would been, at the very at least, created the appearance of intervening in an going investigation or audit," Carney said. "And the cardinal rule here, as it should be, is that you do not intervene in ongoing investigations."
Carney added that "this is not about public relations" and the White House's goal was to react to facts rather than partial information.
Watch the clip below via C-SPAN.org
> >Follow Noah Rothman (@NoahCRothman) on Twitter
Have a tip we should know? tips@mediaite.com