Jay Carney Smacks Down GOP Attempt To Turn Warren Buffett Against The 'Buffett Rule'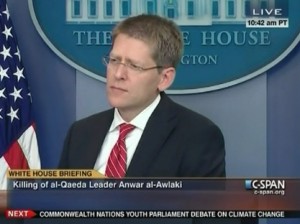 Earlier, we reported on House Majority Leader Eric Cantor's attempt to suggest that billionaire Warren Buffett does not support what Cantor called the "Buffet Rule."
Press Secretary Jay Carney fielded several questions on the subject at today's briefing, pointing out, as we did, that Buffett's remarks were entirely consistent with President Obama's "Buffett Rule," despite "I'm sure, accidental blogging by Republican leaders, and tweeting" that "misconstrued, at best" Buffett's remarks.

In the clip that Cantor says shows "Warren Buffet Seems To Disagree With President Obama's 'Buffet (sic) Rule'," Buffett told Andrew Ross Sorkin that he hadn't seen all of the details of the President's plan, so he doesn't really know if he agrees with all of it, but he supports the President's efforts to grow jobs. He also explained his principle, that "super-wealthy" people who earn income from investments, rather than wages, ought to pay the same rate as wage-earners. This attempt to find daylight between Buffett and the President rests on the fact that, as Buffett tells Ross Sorkin repeatedly, he hasn't seen all of the details of the plan. "I am a supporter of the action he's trying to get the Congress to join him in taking," he said, adding "…I haven't looked at all of the details."
Asked several questions about the clip today, Press Secretary Jay Carney thanked, with obvious relish, each reporter for the opportunity to clarify what's actually in the Buffett clip, and the Buffett Rule.
Carney told NBC's Chuck Todd that there had been "a lot of deliberate misrepresentation, for political reasons," of what Buffett said, and told another reporter that Republican leaders had "misconstrued, at best," Buffett's comments.
"The principle is that affluent Americans should pay at least the same tax rate as middle-American wage-earners," Carney explained, and just as Buffett did, he made clear that the line of demarcation isn't the amount someone earns, but whether it is earned through investments, which are taxed at a much lower rate currently, or through wages.
This mini-kerfuffle demonstrates the degree to which the President's opponents are desperate to undermine Buffett's immensely reasonable argument that people like him ought not pay a lower effective tax rate than an average American wage-earner. It's hard to complain about "class warfare" when one of your own generals is saying, "Hey, it's only fair."
Here are Carney's responses to the Buffett questions, from today's White House briefing:
Part 1:
Part 2:
Have a tip we should know? [email protected]