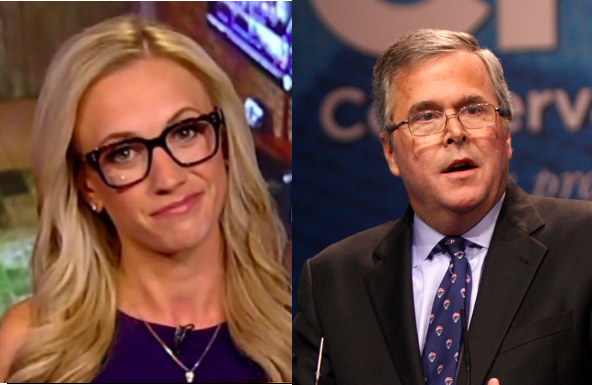 National Review reporter Katherine Timpf is a frequent guest of various Fox News shows as a contributor, not unlike many of us in the media who have had some fun with GOP candidate Jeb Bush's new campaign slogan. However, casually on Tuesday night Timpf fired off the following simple jokey tweet to Bush:
Hey my room is a mess can u fix it @JebBush

— Katherine Timpf (@KatTimpf) November 4, 2015
Bush's new "Jeb Can Fix It" campaign slogan has quickly earned a reputation throughout the Twittersphere, so there was nothing particularly out of the ordinary about Timpf's humor. However, within minutes, the official Twitter account for the candidate fired back a response calling for direct action:
@KatTimpf email jeb@jeb.org with the details — Jeb Bush (@JebBush) November 4, 2015
Timpf continued suit and screengrabbed her subsequent email follow-up to Bush, citing a long-lost faith with President Barack Obama who "promised change but here I am all these years later and I'm still having the same problem" of a messy room.
Please confirm when read @JebBush pic.twitter.com/qeY2aMhgN2

— Katherine Timpf (@KatTimpf) November 4, 2015
As this most unlikely of correspondences continued to unfold on the live Twitter stage, the Bush campaign appears to have rallied up a few talking points to send off to Tempf, ending with the actual line, "You can do it and I fixed."
.@JebBush's response to my email pic.twitter.com/8aYxzCEhfe

— Katherine Timpf (@KatTimpf) November 4, 2015
Although it is a far cry from the incessant Retweeting that Donald Trump seems to engage with at every possible moment, it's nice to see Jeb's campaign have a bit of light-hearted fun with the roll out of his new campaign tactics. According to Tuesday's NBC/WSJ poll, Bush continues to trail Trump, Ben Carson, Ted Cruz, and Marco Rubio.
[h/t The Blaze]
[images via Twitter and Wikipedia Commons]
—
>> Follow J.D. Durkin on Twitter (@MediaiteJD)
Have a tip we should know? tips@mediaite.com