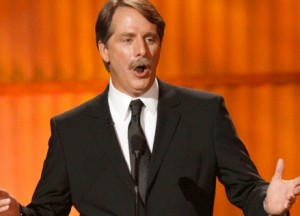 With primaries in Alabama and Mississippi tomorrow that are too close to call, according to polls, former Massachusetts Gov. Mitt Romney needs all the Southern fried mojo he can get. Victories in one or both of these primaries would go a long way to convincing people that Romney can win in the South, and possibly seal the fates of rivals Newt Gingrich and Rick Santorum. To that end, Romney has brought out the big guns, campaigning in the states today with "You might be a redneck if…" comedian Jeff Foxworthy.
According to a press release from the Romney campaign, "On Monday, Jeff Foxworthy will attend Romney for President campaign events in Mobile, Alabama before heading to Mississippi for events in Biloxi and Richland."
The three events are open to the press, and two are billed as "meet and greet" events.
In recent weeks, Romney's inability to "connect with voters" has been exacerbated in the South, so while Foxworthy may be popular in the region, I'm not sure how a Romney/Foxworthy team-up will play. It could serve to simply highlight the contrast between Romney and the average Southerner, and give the impression that Romney is laughing at them, and not with them.
I'm nothing if not generous, though, so to help Mitt Romney connect with voters during his Foxworthy swing, I've come up with some material that he can use, with apologies to Mr. Foxworthy:
Have a tip we should know? tips@mediaite.com