Jewish Leaders Outraged After 'Biggest Ship in the World' Is Named After SS War Criminal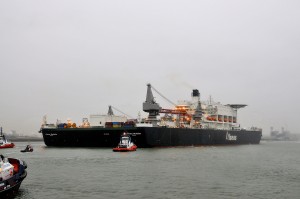 European Jewish leaders are outraged at the Rotterdam arrival of a Dutch ship named after Pieter Schelte Heerema, who was a maritime engineer Dutch officer in the Waffen-SS. The ship, called the Pieter Schelte — the world's largest vessel — arrived three weeks before Holocaust Remembrance Day and the 70th anniversary of the liberation of Auschwitz, and just two days before the Charlie Hebdo attackers killed four hostages at a kosher supermarket in France.
"Naming such a ship after an SS officer who was convicted of war crimes is an insult to the millions who suffered and died at the hands of the Nazis," Jonathan Arkush, the vice president of the Board of Deputies of British Jews, told The Guardian. "We urge the ship's owners to reconsider and rename the ship after someone more appropriate."
The ship is owned by Edward Heerema, a Dutch citizen and the son of Pieter Schelte Heerema. The shipbuilder, Allseas Group, which Edward founded in 1985, says the ship was named in the honor of Pieter's "great achievements in the offshore oil and gas industry."
Esther Voet, the director of the Center for Information and Documentation on Israel (Cidi) told The Guardian that the timing — just before the 70th anniversary of the liberation of Auschwitz — was "a coincidence, I'm sure, but a sign of the times."
Haaretz reports that the ship will soon be deployed to service British companies in the North Sea.
[Image via Wikipedia]
— —
>>Follow Andrew Desiderio (@forza_desiderio) on Twitter
Have a tip we should know? [email protected]
---