Jim DeMint Draws Line In The Sand For Marco Rubio Over Economic Cost Of Immigration Reform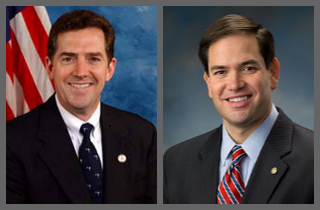 The GOP intraparty divide over immigration got wider Wednesday evening, when South Carolina Senator-turned-Heritage Foundation pit bull Jim DeMint penned an op-ed in the USA Today deploring the Gang of Eight's immigration reform bill.
"Any reform legislation should first do no harm to our already dire fiscal outlook," DeMint wrote, along with coauthor Derrick Morgan, a clear gauntlet meant for one Florida Senator in particular.
Marco Rubio, immigration reform's most prominent conservative spokesman, has been walking a fine line between hardline conservatives and a Republican Party desperate not to cede the crucial Latino demographic.
DeMint's op-ed shows how little leeway those conservatives are giving him. The former Tea Party kingmaker—who endorsed Rubio four years ago, and was recently outed as Rubio's BFF in GQ—wasted no time in impugning the motives of the eight legislators who crafted the proposed law, claiming the bill "was written and debated behind closed doors."
"Those in the room," DeMint wrote, "including big business, big labor, and representatives of unauthorized immigrants, will all benefit in various ways from legislated amnesty."
Amnesty is the money word, as immigration hardliners interpret almost any "pathway to citizenship" as hanging a "C'mon in" sign on the border.
DeMint added a fiscal conservative spin on this argument, warning of the costs to the deficit if millions of undocumented immigrants were able to receive government benefits. Plugging his own team, DeMint cited a study by the Heritage Foundation's Robert Rector that pegs the cost of "amnesty" at $2.5 trillion, and augured that the "truly enormous costs come when unauthorized immigrants start collecting retirement benefits."
Rubio has been adamant that the reform will recoup most costs via processing fees and fines, to say nothing of funds gained by converting immigrants into taxpayers. DeMint did not address any revenue that might be raised as part of the reform.
— —
>> Follow Evan McMurry (@evanmcmurry) on Twitter
Have a tip we should know? tips@mediaite.com