Jim Webb Declines Naval Academy Honor After Protests From a 'Small But Vociferous Group of Women'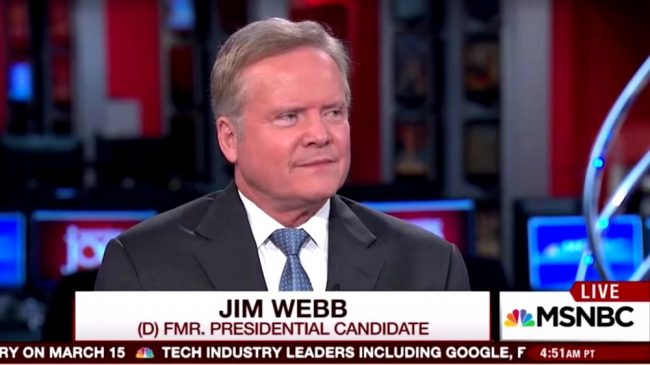 Former Senator Jim Webb declined the "distinguished graduate award" from the U.S. Naval Academy's alumni association on Tuesday after a group of female alumnae protested the honor.
The Washington Post spotlighted the controversy surrounding the former Democratic presidential candidate in an online article on Tuesday. Webb, a 1968 graduate of the academy and recipient of the Navy Cross, became a professor at Annapolis after he retired from active duty as a marine.
While teaching at the academy, the Vietnam veteran wrote a 1979 Op-Ed for Washingtonian magazine that criticized the entry of women in the county's military service academies. He also emphasized that "no benefit to anyone can come from women serving in combat."
The Post's reporting noted that "the Washingtonian article has followed Webb for years, including at his confirmation hearing to be Navy secretary in 1987 … In 2006, the article surfaced again during Webb's Senate race against former [Virginia] governor George Allen."
Webb issued a statement on his website Tuesday that explained his decision to decline the association's award. The former senator said that he was being "protested by a small but vociferous group of women graduates based on a magazine article that I wrote 38 years ago." He continued that "while this article was controversial, many of these protests have wrongly characterized my reasons for having written it, my views of women, and also my record of government leadership in addressing opportunities for women in the military and in our society."
The Democratic politician later disclosed that "it is clear that those protesting my receipt of this award now threaten to disrupt the ceremonies surrounding its issuance. I am being told that my presence at the ceremony would likely mar the otherwise celebratory nature of that special day, and as a consequence I find it necessary to decline to accept the award."
Webb isn't the only "distinguished graduate" honoree from the Naval Academy who has voiced opposition to women in combat. The alumni association honored another Navy Cross recipient, Marine Colonel John Ripley, in 2002. In 1992, Colonel Ripley testified in front of Congress and argued that a "sure loss of combat effectiveness in our units will take place if women are introduced into them."
[image via screengrab]
Have a tip we should know? [email protected]
---