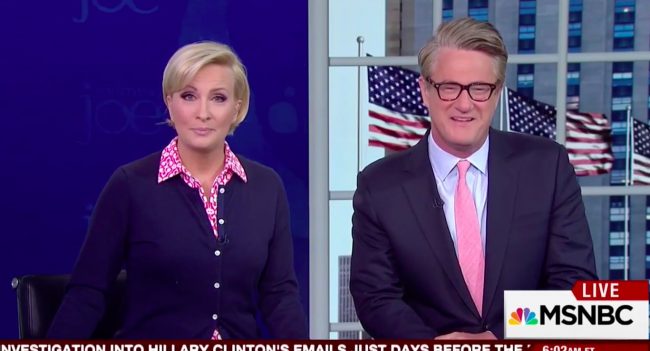 Morning Joe co-hosts Mika Brzezinski and Joe Scarborough wrote a scathing rebuke of President Trump that was published this morning in the Opinion section of the Washington Post.
The MSNBC morning show host — and engaged couple — shot back at the President after he tweeted remarkably negative and personal attacks on the two, calling them "Low IQ Crazy Mika and Psycho Joe" and alleging Mika was "bleeding badly from a facelift." The nearly bipartisan admonition that followed flooded the news cycle for an entire day.
Brzezenski had on a number of occasions during her show questioned Trump's mental stability and this opinion piece continues on that theme, focusing specifically on Trump's alleged "mistreatment of women:
More significant is Mr. Trump's continued mistreatment of women. It is disturbing that the president of the United States keeps up his unrelenting assault on women. From his menstruation musings about Megyn Kelly, to his fat-shaming treatment of a former Miss Universe, to his braggadocio claims about grabbing women's genitalia, the 45th president is setting the poorest of standards for our children. We were heartened to hear a number of Republican lawmakers call out Mr. Trump for his offensive words and can only hope that the women who are closest to him will follow their examples. It would be the height of hypocrisy to claim the mantle of women's empowerment while allowing a family member to continue such abusive conduct.
The column continues to explain the specifics of a New Year's Eve visit to Mar-a-Lago six months ago which actually earned the Morning Joe team some criticism for what seemed to be a overly friendly relationship with the president. Joe and Mika later clarified that they were there for pre-production meetings with then President-Elect Trump.
Perhaps more notable in the post was the suggestion that White House staff members are alleged to have threatened the two with a negative article in the National Enquirer.
The president's unhealthy obsession with our show has been in the public record for months, and we are seldom surprised by his posting nasty tweets about us. During the campaign, the Republican nominee called Mika "neurotic" and promised to attack us personally after the campaign ended. This year, top White House staff members warned that the National Enquirer was planning to publish a negative article about us unless we begged the president to have the story spiked. We ignored their desperate pleas.
For the uninformed, National Enquirer is not just the supermarket tabloid and tabloid punchline, but also the lead title for American Media Inc., a publishing company that is owned by close Trump ally David Pecker. The National Enquirer has been among the most favorable outlets towards President Trump, both during his campaign and the first several months of his presidency.
Read the opinion piece at the Washington Post here.
Follow @colbyhall on Twitter.
Have a tip we should know? tips@mediaite.com