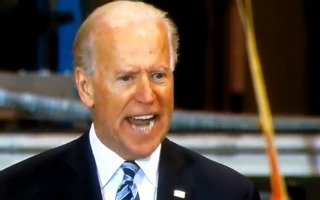 Vice President Joe Biden, scourge of sculpted campaigns and defiler of the photo-op, has once again made himself the story with a true Howard Beale moment. On Wednesday, at a campaign stop in Youngstown, Ohio, Biden grabbed his audience by the lapels and projected copious wads of ferocious saliva in their faces as he enumerated the myriad reasons why they should be—er, I mean, why he's outraged over the state of American politics.

RELATED: NY Times Buries The Lede: Anderson Cooper's Ratings Surge At 8PM
Apparently, an enterprising campaign staffer or consultant got into Biden's coffee. That, or they finally persuaded him that soft-talking, commanding-presence Biden was not playing well:
One thing I do resent. I resent when they talk about families like mine that I grew up in. I resent the fact that they think we're talking about – we're envy. That it's job envy, it's wealth envy, that we don't dream.
Contrary to the tone of his speech, the Vice President was forced to scale back his dreams mid-sentence:
My mother believed and my father believed, that if I wanted president of the United States – I could be, I could be vice president of the United States.
The above quote has the dubious distinction of being the moment where Biden exhibited the most forethought of his career. He managed to correct himself less than a quarter second after a gaffe, thus nullifying the sound bite. Well played, Mr. Vice President.
My mother dreams as much as any rich guy dreams. They don't get us. They don't get who we are.
Applause, ladies and gentlemen, for 2012's most ham-tacular campaign stop performance. In the roll of righteously aggrieved populist slash spectacularly wealthy and powerful office-holder: Joe Biden.
Remember during the 2012 cycle, when tea partiers across the nation were capturing the national zeitgeist with their angry town halls and protests, the talking heads were universally wondering why President Obama was not exhibiting the same flavor of rage?
Obama heard the message and, in a scripted moment of faux-perturbation, told NBC through pursed lips that he was traveling to the Gulf Coast amidst a catastrophic oil spill to learn "whose ass to kick?"
Yeah. That's what this feels like.
One part manufactured rage mixed with few dollops of sound bites – unfortunately, the frothy stew that the Obama campaign was concocting was doomed from the start. The very mixing bowl into which they poured their latest concoction was tainted. Behold, "Angry Biden."
I await the viral internet meme that will form around this episode in three… two… one…
Watch Biden's rambling, gambling revival speech below:
h/t The Blaze
Have a tip we should know? tips@mediaite.com