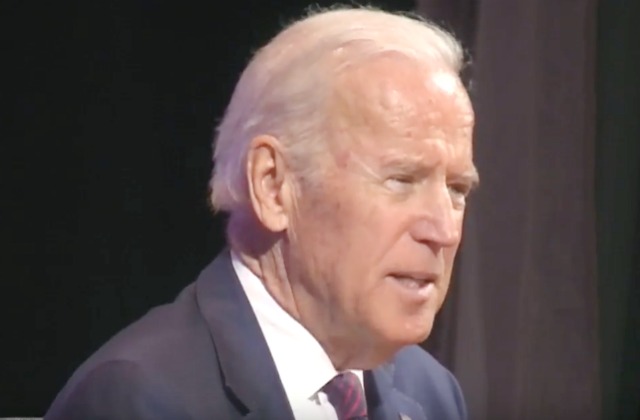 Former Vice President Joe Biden has a piece out in The Atlantic this morning tearing into President Trump for his divisive words and actions in the weeks since Charlottesville.
Biden––who has publicly spoken out to criticize the Trump administration a few times––writes that we are now "living through a battle for the soul of this nation":
The giant forward steps we have taken in recent years on civil liberties and civil rights and human rights are being met by a ferocious pushback from the oldest and darkest forces in America. Are we really surprised they rose up? Are we really surprised they lashed back? Did we really think they would be extinguished with a whimper rather than a fight?

Did we think the charlatans and the con-men and the false prophets who have long dotted our history wouldn't revisit us, once again prop up the immigrant as the source of all our troubles, and look to prey on the hopelessness and despair that has grown up in the hollowed-out cities and towns of Ohio and Michigan and Pennsylvania and the long-forgotten rural stretches of West Virginia and Kentucky?
It's clear the events of Charlottesville and President Trump's response to it outraged Biden as well, for he goes on to slam Trump for "publicly proclaim[ing] a moral equivalency between neo-Nazis and Klansmen and those who would oppose their venom and hate."
He even said, "We have an American president who has emboldened white supremacists with messages of comfort and support."
Biden even included the Joe Arpaio pardon in his criticism:
A week after Charlottesville, in Boston, we saw the truth of America: Those with the courage to oppose hate far outnumber those who promote it.

Then a week after Boston, we saw the truth of this president: He won't stop. His contempt for the U.S. Constitution and willingness to divide this nation knows no bounds. Now he's pardoned a law-enforcement official who terrorized the Latino community, violated its constitutional rights, defied a federal court order to stop, and ran a prison system so rife with torture and abuse he himself called it a "concentration camp".
The former veep concludes by saying Americans have an obligation and "special burden" to "uphold America's values" and "do what he will not."
You can read the whole thing here, courtesy of The Atlantic.
[image via screengrab]
— —
Follow Josh Feldman on Twitter: @feldmaniac
Have a tip we should know? [email protected]
Josh Feldman - Senior Editor