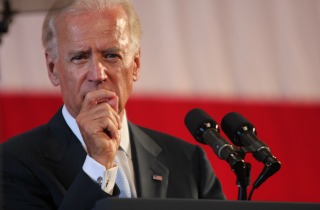 Vice President Joe Biden will reportedly skip CNN's Democratic presidential debate later this month, according to the network's senior Washington correspondent Jeff Zeleny.
Biden has been flirting with a White House bid for months now, and has continued to extend his deadline for making a decision. As frontrunner Hillary Clinton's poll numbers continue to plummet over her perceived untrustworthiness and low favorability ratings, many Democrats see an opening for Biden to mount a viable challenge to Clinton.
Citing Democratic sources, Zeleny reports that Biden is not expected to jump in before the debate, and therefore is not preparing to face off with Democratic rivals Clinton, Bernie Sanders, Martin O'Malley, Jim Webb, and Lincoln Chafee at the Oct. 13 contest in Las Vegas. Instead, he will likely wait until the end of October to share his decision, according to Zeleny.
In anticipation of a potential Biden candidacy, CNN included in its official criteria announced last week a provision that would allow Biden, who has run for president twice before, onto the debate stage even if he declares his candidacy on Oct. 13, the day of the Democratic debate in Las Vegas.
"But with every passing week, many Democrats close to Biden are hardening in their beliefs that he will ultimately decide against challenging Clinton and the rest of the party's field," Zeleny wrote.
In an interview earlier this month, the vice president acknowledged that his final decision — which will involve his family, he said — might not come "in time to make it feasible to be able to run and succeed because there are certain windows that will close."
A recent poll found that Biden is the strongest general election candidate on the Democratic side. In head-to-head matchups with Republicans, the survey found that the Vice President would beat almost every Republican. Clinton, meanwhile, would lose to each GOP candidate except Donald Trump.
[Image via Shutterstock]
— —
>>Follow Andrew Desiderio (@desiderioDC) on Twitter
Have a tip we should know? tips@mediaite.com