Joe Biden: Had The Osama Bin Laden Raid Failed, Obama 'Would've Been A One-Term President'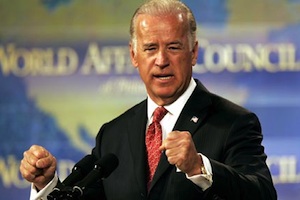 When President Obama announced the mission to kill Osama bin Laden was a success, many said it would seal his re-election. Now it seems even Vice President Joe Biden was wary about the president's prospects of second term if not for the foreign policy success. Speaking at fundraiser Monday night, Biden told supporters that without the successful bin Laden mission, Obama would have been a one-term president.
RELATED: Joe Biden Admits He Advised President Obama Not To Carry Out Bin Laden Raid
From The Hill:
"This guy's got a backbone like a ramrod," Biden said of Obama, according to the White House pool report. He cited the success of the military mission to capture Osama bin Laden in Pakistan last summer as a decisive moment for his presidency.

"He said, 'Go,' knowing his presidency was on the line," Biden said of Obama. "Had he failed in that audacious mission, he would've been a one-term president."
No doubt the success of the raid has been widely touted as a major foreign policy success (though some including Michele Bachmann haven't quite agreed). The new pro-Obama film, The Road We've Traveled, also highlights it — with a nice supportive comment from President Bill Clinton.
While the president is in campaign mode, we've not yet reached the end of the Republican primary race. When the campaigning for the general election kicks into full gear, we'll surely hear more about how the president who finally sealed bin Laden's fate deserves a second term. But right now, there's no telling whether Biden's right about securing that re-election.
Have a tip we should know? tips@mediaite.com