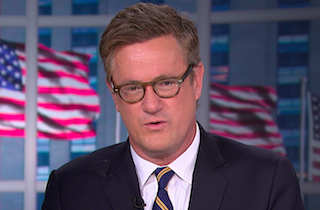 Joe Scarborough, NBC News' senior political analyst and host of Morning Joe, went out on a limb Monday with an op-ed for Politico that says President Barack Obama has it "right" when it comes to his strategy for defeating ISIS.
"I have been a consistent critic of President Obama's policy initiatives," Scarborough begins, attempting to boost his conservative credentials. "I called the stimulus package a steaming pile of garbage, said his health care plan was bad for America, and said his massive spending programs would undermine American capitalism."
He continues: "I repeatedly warned against tripling the number of troops in Afghanistan, I condemned the administration's expansive drone policy, and have always had concerns about a management style that leaves the president isolated in D.C. and inside his own White House."
"But when it comes down to facing down the greatest threat since 9/11, I think this president has it just about right," Scarborough writes. He even pits himself and the president against "Republicans and neocons like Hillary Clinton" who "play the cynical game that politicians love to play by second guessing his lack of action in Syria and speculating about what might have been."
Scarborough goes on to commend the president for successfully convincing Arab leaders to join the fight against the Islamic terrorist network in Iraq and Syria instead of rushing in unilaterally "with guns blazing," a not-so-subtle reference to former President George W. Bush.
"It's only a start in our battle against ISIL, but it is a good start," he concludes.
Also of note: Scarborough uses the administration-preferred "ISIL" over the media-preferred "ISIS." So, make of that what you will.
Read the full piece at politico.com.
[Photo via NBC]
— —
>> Follow Matt Wilstein (@TheMattWilstein) on Twitter
Have a tip we should know? tips@mediaite.com