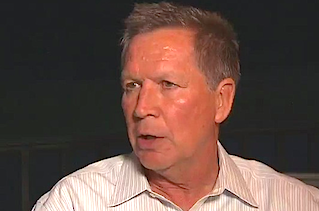 Potential 2016 presidential candidate Gov. John Kasich (R-OH) may fall on the slightly-more-progressive side of the fence when it comes to the issue of attending a same-sex wedding, he is taking a very hard line on the legalization of marijuana.
Asked by conservative radio host Hugh Hewitt on Tuesday what he makes of Colorado and Washington's decision to make the drug available for recreational use, Kasich said he is "totally opposed" to the policy and even went so far as to equate the marijuana with heroin. But he would not go so far as to say he would shut down those states' ability to sell and tax marijuana within their borders.
"I'd have to think about it," he said, not quite acknowledging the conventional wisdom that Colorado and Washington are actually breaking federal law. He called legalization a "states rights issue," but at the same time said he plans to oppose his own state's efforts to do so.
Calling drugs in general "a scourge in this country," Kasich said he "probably would not" prosecute states that flaunted federal law if he were president. As Hewitt pointed out, Gov. Chris Christie (R-NJ) has come out even harder against marijuana legalization while candidates like Rand Paul and Ted Cruz tend to fall on the more lenient side.
Kasich went on to say that if he were president he would lead a campaign to "stomp these drugs out of our country," without making a distinction between marijuana and far more dangerous substances like heroin.
Listen to audio below, via The Hugh Hewitt Show:
[Photo via screengrab]
— —
>> Follow Matt Wilstein (@TheMattWilstein) on Twitter
Have a tip we should know? tips@mediaite.com