John McCain To The New Republic: 'I Think That Fox News Is A Bit Schizophrenic'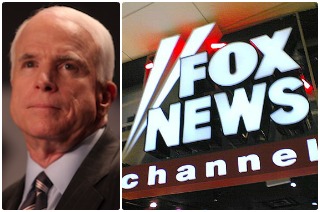 In a wide-ranging interview for the opinion journal The New Republic, Sen. John McCain (R-AZ) was asked for his thoughts on the love/hate relationship that he has had with the personalities on Fox News Channel over the years. McCain told TNR's Isaac Chotiner that he has never changed, but Fox's opinion of him and the issues he tackles has shifted dramatically over the years. "I think that Fox News is a bit schizophrenic," the Arizona senator opined.

"You have had conversations with people at Fox, The New Yorker reported, about immigration," Chotiner asked, citing a report by Ryan Lizza which revealed that McCain had approached Fox News Chairman Roger Ailes asking him and his network to be more receptive to immigration reform proposals.
"There is a real divide in the party," Chotiner continued. "What do Roger Ailes and Rupert Murdoch say about whether the party can come along on this issue?"
"It is well known that Rupert Murdoch is a strong supporter of immigration reform," McCain replied. "Roger Ailes is also a realist. He believes that immigration reform is vital to the country first, but also the GOP. Yet he does not dictate. [Sean] Hannity has come out against it and kept his job. I don't think Roger Ailes is ham-fisted."
RELATED: John McCain Goes After Fellow GOPer On Senate Floor: He 'Ought To Learn' How Congress Operates
"But if you watch Fox, there are all these segments on immigrants and crime and so on, and people get riled up, and then they want reform," the TNR reporter followed up. "It's a difficult dynamic in the party."
"I think that Fox News is a bit schizophrenic," McCain shot back. "I saw a guy on "Hannity," maybe "Huckabee," and the guy said, "You know, the Chinese are coming across our border, and they are going to commit cyber-attacks."
Chotiner expressed incredulity over the belief that one would have to cross a physical border to execute a cyber-attack. "Honest to God!" McCain assured him. "They are going to commit cyber-attacks."
Read the full interview via TNR
> >Follow Noah Rothman (@NoahCRothman) on Twitter
Have a tip we should know? tips@mediaite.com