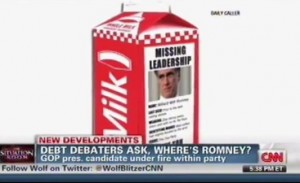 With a surprise quasi-endorsement by Erick Erickson this morning, former Utah Governor Jon Huntsman's presidential  campaign might have some new life in it, so I was keenly interested when I saw their new "Scared Mittless" ad in my inbox this morning. Aside from the awesome title, the script for the ad is an absolutely brutal takedown of Mitt Romney's press-avoiding ways. The ad itself, though, has a glaring flaw.
The ad is pegged to a new Huntsman campaign website called "ScaredMittless2012.com" (scaredmittless.com has been squatted on) which features clocks that count up from Mitt's last Sunday show appearance (610 days) and press conference (28 days). The ad's script promises a hard-hitting spot:
CHYRON: "It has been 91 weeks since Mitt Romney has appeared on a Sunday show."

CHYRON: "One month since he has held a press conference."

CHYRON: "How long will Mitt run from the tough questions?"

CHRIS WALLACE: "He has not appeared on this program or any Sunday talk show since March of 2010. We invited Governor Romney again this week, but his campaign says he is still not ready."

ANCHOR: "Republican presidential frontrunner Mitt Romney finally put out a statement on the agreement to raise the debt ceiling. He was one of the last GOP contenders to do so."

ANCHOR: "Raising the question whether what happened was a mistake or a political tactic."

NORAH O'DONNELL: "I just spoke with Governor Huntsman."

MITT ROMNEY: "I just don't take questions unless we're doing a press avail."

O'DONNELL: "But you're running for president."

ROMNEY: "What I don't want to do is just stand on a sidewalk answering questions."

ROMNEY: "I'm not speaking about the particular ballot issues."

ROMNEY: "Listen to my words. All right, listen to my words."

GLEN JOHNSON: "That's semantics. Running your campaign and giving you advice. Come on."

CHYRON: "Mitt Romney Ducks Debt Question –Politico 07/27/11"

CHYRON: "Romney Spends 35 Seconds Dodging Yes Or No Question –Daily Caller 10/10/11"

CHYRON: "Romney Avoids Weighing In On Union Fight –CNN 10/25/11"

CHYRON: "Don't Take It Personally Iowa; Romney's Avoiding Everyone –Des Moines Register 08/02/11"

CHYRON: "Mitt Romney's Mittness Protection Program –Politico 08/01/11"

CHYRON: "Mitt Romney's Vanishing Act –NY Times 08/10/11"

WALLACE: "We invited Governor Romney again this week, but his campaign says he is still not ready to sit down for an interview."

CHYRON: "ScaredMittless2012.com"
Then, you play the actual ad:
Are you kidding me with that music? Yes, nothing goes better with a brutal political attack than acoustic guitars and whistling. I know that some political ads this season have featured ridiculously overwrought musical scores, but come on, you've got the guy running, for Mitt's sake! The whole thing cries out for the cinematic treatment.
Despite his low poll numbers, Huntsman has been plugging away, and his campaign has kept up a steady stream of attack ads and opposition memos, but the ads have all featured weirdly laid-back music that completely sucks the life out of them. They need to get ahold of whoever did this ad for pro-Obama PAC Priorities USA.
Have a tip we should know? tips@mediaite.com