Jon Stewart: 'Andrew Breitbart May Be The Most Honest Person In The Entire Story'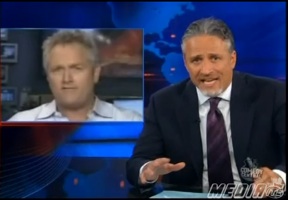 A bewhiskered Jon Stewart returned from his recent two week vacation and addressed the latest political news controversy: the scandal surrounding former USDA staffer Shirley Sherrod's unfair dismissal after allegations of racist comments were revealed to be out of context. Stewart spared no one complicit in the whole clusterf*ck, save one unlikely participant: Internet provocateur Andrew Breitbart, the individual who first published the heavily edited video of Sherrod's comments. Say what?
After railing against Secretary of Agriculture Tom Vilsack for saying that Sherrod's dismissal "should have been done in a more personal way, with far more thought and far less haste," he then mocked the NAACP for claiming to have been "snookered" and the White House's unique non-apology apology. Shockingly, however, Stewart appeared to give Andrew Breitbart a pass – not for his actions, per se, but rather his candor in admitting his agenda five months back:
Stewart: First of all, Fox News is too busy with their black panther hard-on to bother much with this. And Andrew Breitbart, the guy who leaked the edited tape, may be the most honest person in this entire story. This is what he said five months ago:

Bretibart (from file footage): I want to be in the history books saying I took down the institutional left.

Stewart: See he didn't say "I want to be in the history books a aparagon of honesty," he didn't say "I would like to be in the Museum of Broadacsting, and to be known by children around the wold as Arnold B. Truthington of Accuracy Lane."

No ,he said out loud "I want to bring down the institutional left." So if you are on the institutional left, and you see the package from him, watch the whole (bleep) tape. How is that snookering?
While many in the media have lambasted Breitbart for his part in this story – and much of that has been deserved – Stewart makes a rather brave point. Breitbart has always been clear with his agenda, so no one should be shocked when it is effective. Lesson learned?
Have a tip we should know? [email protected]