Josh Earnest Bashes GOP For Creating the Trump Monster: 'There Are No Republican Ideas'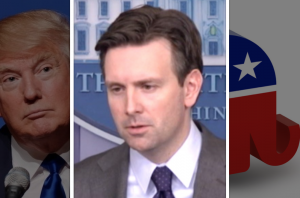 On Thursday, White House press secretary Josh Earnest spoke candidly about the state of the Republican establishment, giving his take on exactly what has gone wrong to result in the current state of their electoral politics. The forces responsible for a Trump-led nominating race, Earnest argued, are the same ones that are behind the irresponsible obstruction of President Barack Obama's proposals.
During an event with The Hill, Earnest noted that the current fractured state of the Beltway GOP has largely resulted from their unwillingness to work with the President. He said, "What we've seen from congressional Republicans is to basically say, 'No, we're not gonna put forward an alternative; we're not gonna consider your ideas; we're just gonna oppose them and block them at every step.'"
These same issues have not only dogged the party at the doorstep of the Oval Office, according to Earnest; they are also responsible for the rise of Donald Trump as the leading delegate-holder on his way to a clean sweep of the nomination.
"That is precisely the reason that they have ended up with a leading presidential contender on the Republican side that doesn't share any of their policy ideas," said Earnest. He continued:
"It's because congressional Republicans in Washington have not been putting forward or advocating for specific ideas. Essentially, when you have congressional Republicans, Republican leaders in Washington, D.C., that don't stand for something, Republican voters across the country are in a position where they're going to fall for anything. In this case, they've fallen for Donald Trump."
Keen readers who have seen the Broadway smash hit Hamilton (or like most, those who have listened to the soundtrack) may have identified a Lin-Manuel Miranda original in that line: the likelihood of "falling for" something when there is nothing of substance to stand for. In this context, Earnest bashed the Republican party for not having a steadfast commitment to any particular ideals, allowing for the fringe Trumpian wildcard to swoop up voters intent on finding change.
"There are no Republican ideas," Earnest continued. "And the reason that Republican voters are falling for that is because there has not been a sustained effort on the part of Republicans to actually advocate for ideas."
[h/t The Hill]
Have a tip we should know? tips@mediaite.com