Journalist Flees Iran After Releasing Audio of News Director Begging Her for Sex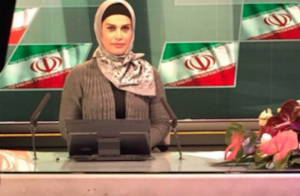 Bosses at Iran's 24-hour English-language news channel, Press TV, have not just been accused of sexually harassing one of their employees for years. No, they've been shown doing it. Journalist Sheena Shirani posted proof in the form of written and verbal messages to her Facebook page before leaving Iran and fleeing to an undisclosed location with her young son.
According to Iran Wire, news director Hamid Reza Emadi and studio manager Payam Afshar have been suspended by Press TV following the revelation.
In spite of — or maybe because of — the suspensions, Shirani has faced backlash, even from higher-ups at Press TV. She took to her Facebook account to call out a former manager named Shahrzad Mir Gholikhan.
After Facebook took down some of the messages she posted from Emadi, who has been positioning himself as the Good Guy, she simply posted them again, putting the social media site on blast alongside her former boss.
In other shared messages from Emadi, he can be seen calling what she is doing "bullshit" and whining that she is "making people who hate [his] guts very happy." Judging by the following inappropriate communications with his employee, he took care of making those individuals very happy on his own.
The reason she fled with her child becomes clearer to anyone who takes the time to weed through her Facebook posts. A number of commenters call for her to keep these matters "out of the public" while others ask why she stayed quiet for so long, even after she posted about how difficult it was to weigh her dignity against her career, which she knew she would lose when she spoke up.
The voice messages, which are not in English, are even more incriminating than the WhatsApp and Facebook Messenger screenshots. According to Iran Wire, Emadi spent the entire ten minutes of the recording begging Shirani to come over and have sex with him, even for two minutes, because his "penis [was] exploding."
He segued into begging for sex from telling her he couldn't have harassed her because he didn't even touch her breasts, which "drive [him] crazy." He told her he only touched her stomach, which wasn't harassment. He ignored her when she said harassment isn't always in the form of touch on intimate areas, instead switching topics by saying he was "really desperate" for her to come over and have sex with him.
He used the same guilt-tripping line of "I've always been there for you" to try to get her to sleep with him that he used when he tried to get her to take down the photos of his texts. His desperation turns to anger as the recording goes on.
I've always helped you. I've always been there for you. Whenever you wanted something, I've helped you. I'm not asking you to kill someone. You can help me as a friend. You can have sex with me as a friend.

— Hamid Reza Emadi
Scarily, he went on to say, "I could've hurt you, but I didn't want to."
Emadi has insisted that the messages are all fake. He and Hamid Reza Babai, the head of Press TV's PR department, refused to comment to Iran Wire, but a former colleague of Shirani agreed to give a statement on a condition of anonymity.
I can confirm the authenticity of the recording. It's not a fake. I know both of them and both their voices and it's definitely them. She's a respectable woman but she was vulnerable as a single mother with a son and he used this against her. She also needed the money. Sadly, the harassment has been going on for years. Emadi is a manipulative person and he takes advantage of people. He did it to me and he's done it to her. Working with him as a boss is simply terrible.

— Anonymous Source
As Shirani and her son remain in hiding, it is unclear if the suspensions will last or any changes will be made at Press TV. Best wishes to them.
[image via Facebook]
For more from Lindsey, follow her on Twitter.
Have a tip we should know? tips@mediaite.com