Journalist Who Received Anti-Semitic Threats Over Profile of Melania Trump Files Police Report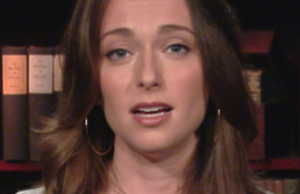 On April 28, I told you about how Julia Ioffe has been receiving anti-Semitic threats ever since she published a profile of Melania Trump in GQ. A vast number of those threats came in on Twitter, but she posted on her account that she had received a discomforting phone call from a casket company, too. I ended the post by telling readers that Ioffe had not updated her account in 50 minutes. I said I hoped she was well.
As it turns out, she was not well. The call from Overnight Caskets was not the only one she received. According to the Washington Post, she filed a report for "threat to kidnap or injure a person" with the police in D.C. the next day. The threats came via phone, email, and Twitter. One that was specifically referenced in the report and the Post piece was the cartoon image of a man being shot in the head that was included in my original post, too. Ioffe allegedly received it in her email inbox with a subject heading of, "They know about you!" She then tweeted the image to showcase the abuse that was flooding her inbox.
In the Post's run-down of her report, Erik Wemple took a sharp angle, stating that this type of threatening behavior is simply what can be expected from the presidential campaign of Donald Trump. In the past ten months, Wemple pointed out, Trump has appeared at times to court white supremacists and nationalists and has earned the support of a number of groups that are ostensibly racist, anti-Semitic, etc.
Wemple put it like this:
Since last June, Donald Trump has run a presidential campaign on bigotry, racism, sexism and frat-house insults. The show has attracted the interest and endorsement — surprise! — of white nationalist groups and figures such as David Duke, a former KKK official. At pretty much the same time, Trump has made a vocation of hammering media coverage of his candidacy, pointing with disdain at offending camera operators at his rally, calling the profession disgusting and dishonest and on and on.
He explained that Ioffe's piece managed to fall at the intersection of the love of nationalism and hatred of journalism that many perceive Trump to be stoking.
[image via screengrab]
For more from Lindsey, follow her on Twitter or Facebook.
Have a tip we should know? tips@mediaite.com