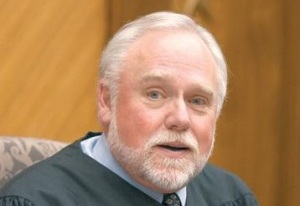 The federal judge who forwarded a malicious email that implied President Obama's mother had sex with a dog has apologized in a letter to the President. The joke, which was at first circulated among friends and later leaked to the press, said:
"A little boy said to his mother; 'Mommy, how come I'm black and you're white?'"

"His mother replied, 'Don't even go there Barack! From what I can remember about that party, you're lucky you don't bark!'"
Chief U.S. District Judge Richard Cebull also has filed a judicial misconduct complaint against himself that could end in his suspension or referral to Congress for his impeachment. But is that enough? Not according to a joint press release from the Congressional Black Caucus, Congressional Hispanic Caucus, and the Asian Pacific American Caucus, which is asking that Cebull resign:
"Chief Judge Richard Cebull's email was deplorable, shameful and inexcusable," Rep. Emanuel Cleaver (D-Mo.), the chair of the CBC, said in a statement. "There is no way to shroud hatred under the cloak of differences in ideals. The email was blatantly racist and filled with the hateful rhetoric this country has strived so desperately to leave behind. An apology alone is not acceptable."
It's bad enough that Cebull was forwarding the joke at all, but to do so from his court e-mail address makes it even more egregious. It crosses the line of human decency and also blurs the line of personal and professional conduct. I wonder if Cebull also was wearing his judicial robe when he sent it? That may be of little importance to some, but to others it highlights the real issue: That Cebull would send racially offensive jokes about bestiality from his court e-mail (while possibly even robed) makes clear that he is incapable of separating his personal biases from his professional duties. If that's the case, why should he remain on the bench? How can the public be assured when they come before his court that they will receive impartial fairness in his rulings?
I agree with the Caucuses that the judge's actions were despicable. But I disagree that he should have to resign. There are a wealth of valid questions that should be asked. But Congressional members shouldn't be the ones asking them at this point. There is already a system in place concerning federal judicial misconduct. The Judicial Council for western states is overseen by the Chief Judge of the Ninth Circuit and reviews complaints, penalties for judges can include suspension or recommendation to Congress for impeachment.
In fact, Cebull appears to have violated at least one definition of misconduct:
"[I]s conduct occurring outside the performance of official duties if the conduct might have a prejudicial effect on the administration of the business of the courts, including a substantial and widespread lowering of public confidence in the courts among reasonable people," according to judicial misconduct rules.
Cebull wrote to Chief Judge of the Ninth Circuit Court of Appeals Alex Kozinski: "I have apologized publicly and profusely for my serious mistake and lack of judgment, and have today written a personal letter of apology to the President of the United States, a copy of which is attached," Cebull wrote to Kozinski. "I waive any confidentiality as to making this request or to the existence of any proceedings that may ensue from it."
Cebull's apologies at this point ring hollow. And clearly they are self-serving. After all, a judge who initiates an investigation into his own misconduct must be contrite, right? But one doesn't have to buy Cebull's apology to stand up for a judiciary that is independent of Congress and the executive branch and, thus, capable of disciplining their own. Each branch of government must respect another branch's processes concerning misconduct. If not, there's a higher risk of politicization.
Congressional members have a duty to stress to the public that a process is in place to handle this kind of misconduct and we should let it run its course. Getting Cebull thrown off the bench isn't worth throwing out separation of powers along with him. Let the Judicial Council determine the appropriate penalty.
Have a tip we should know? tips@mediaite.com